5+ Reasons to Install a Lagoon Pool in Your Backyard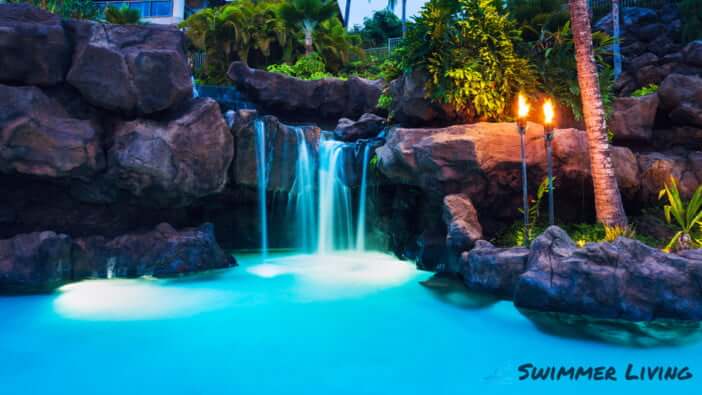 You're considering a pool as an addition to your home, fantastic! Pools provide fun and exercise. They are a great way to create memories and spend time with loved ones.
While deciding on a pool, why not go for a style of pool that is unique to your taste, has a natural look, and incorporates greenery into the design? Look no further than a Lagoon Pool.
But what is a lagoon pool? Lagoon Pools mimic the body of water they are named after, from their mystical and enchanting blue, tan and green color scheme to their ability to incorporate nature into the design; this pool style brings a slice of paradise to your backyard.
The lagoon design takes your pool from an accessory to an oasis; here are a few reasons why:
Disclosure: As an Amazon Associate, this site earns from qualifying purchases. Thank you!
1. Lagoon Pools Offer the Ability To Create a Unique Pool Shape
Lagoon Pools are characterized by curves, often designed in a kidney bean shape or a figure eight; however, you can influence the design in any way you see fit. What is a lagoon pool used for; why would you get one?
They are great for people who want to use their backyard space uniquely. Also, if your backyard is small or has limitations and needs to conserve space, a lagoon pool offers the ability to make the most of what you've got – if you do have space, you can build a safer zero entry pool and theme it like a beach.
2. Lagoon Pools Bring the Vacation to You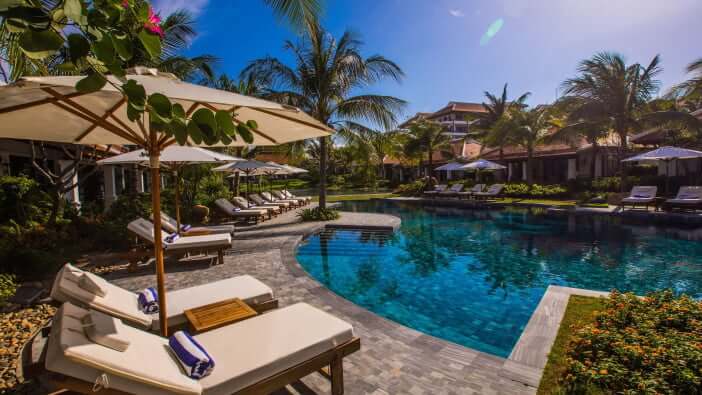 Imagine walking into your backyard, and instead of seeing a pool that resembles your local YMCA, you walk into an island retreat! As mentioned, the pool design is named for its tropical and lush location, making it more aesthetically pleasing.
This will take your pool to another level of relaxation, adding ambiance to your swim. Bluewater, curves that resemble nature, foliage, perhaps even a waterfall if you'd like; the possibilities are endless!
3. Incorporate Nature Into Your Pool Area
Getting an in-ground (or semi in-ground) pool can mean missing out on greeny, plants, and other nature you would usually have in your backyard. Traditional rectangular pools can eat up space and leave no room for actual nature in your backyard.
However, this is different for the lagoon pool; the distinctive shape makes it perfect for pockets of foliage (which also helps with privacy).
In fact, most people with Lagoon pools add plants to the scene. You can choose to go tropical or work with landscapers to include other plants.
The important thing is that plants are present. Not only is this visually stunning, but it will also keep intact nature that can be lost to pools.
4. Easy Additions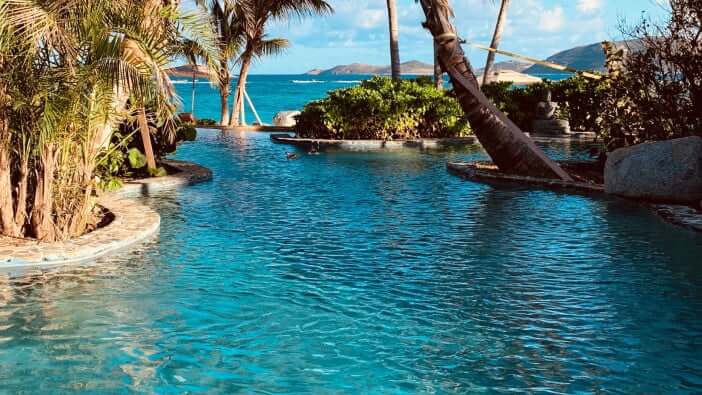 Because of the individualized style of the lagoon, it is easy to add things like grottos, waterfalls, walkways, and spas without them looking bulky, tacky, or added on.
Pool grottos are caves that mimic naturally occurring grottos; they provide shade and escape from the other parts of the pool.
Grottos are easy to place waterfalls over and only increase the pool's beauty; this will give the illusion of a naturally occurring waterfall in your yard!
These types of add-ons only add extra value to your property in the long run, which is an excellent investment.
5. Similar Maintenance
With all these features, you might think a lagoon pool is more complicated than a traditional rectangular pool, but that isn't the case.
Maintenance for lagoon pools is virtually the same as a conventional pool for cleaning and treating the pool, which means no extra cost or time spent cleaning.
Things like checking equipment, changing and rinsing filters, and balancing the pool's chlorine levels are the tasks that any pool owner must complete or hire someone to do for them.
Even with all the luxury and visual extras a lagoon pool offers, there is no extra headache for clean up.
FAQs
By now, we've answered the question "what is a lagoon pool," but understandably, more questions might come to mind before starting the process. A few questions run through most people's minds before committing to a lagoon pool.
How do I choose my design layout for the pool?
Tons of accessible websites will help you determine the size and dimension of the pool; this should also be discussed and decided with the company installing your pool.
What is a lagoon pool's average price?
A Lagoon Pool price is variable because of how individualized the pools are; depending on what additions and accessories you want and who builds the pool, prices will vary.
Is the water different?
Lagoon pools can use regular chlorinated or salt water; this is entirely up to preference.
What type of plants and greenery goes with this pool?
Most people go for a tropical landscape to match the landscape where natural lagoons occur naturally. Again, this is preference, you can use any landscaping you enjoy.
More FAQs
What is the difference between a natural pool and a normal pool?
The difference between a natural pool and a normal pool lies in the level of maintenance required. Natural pools, once constructed, demand significantly less upkeep compared to conventional pools. They do not necessitate chlorine, chemical filtration, pH balancing, or other additional expenses and time-consuming tasks associated with keeping a regular pool clean. As a result, the year-to-year costs of maintaining a natural pool are lower.
What is the difference between a natural pool and a traditional pool?
The difference between a natural pool and a traditional pool lies in the use of chemicals for cleanliness. Traditional pools rely on chemicals, which can be harmful to the human body. On the other hand, natural swimming pools do not use any chemicals and instead maintain cleanliness and health through the use of bacteria and microbes, mimicking the natural processes of the human body.
Can you put chlorine in a natural pool?
Statement: It is possible to put chlorine in a natural pool.Rephrased answer: Unlike conventional pools, natural swimming pools and ponds offer the advantage of requiring significantly less maintenance. This is because there is no need to add any chemicals, including chlorine.
How deep can you make a natural swimming pool?
The depth of a natural swimming pool can be increased to 10 or 12 feet in order to regulate water temperatures and prevent excessive heating during the summer. Additionally, a depth of at least 6-1/2 feet is recommended for a comfortable shallow dive.
What is the difference between beach entry and zero entry?
The difference between beach entry and zero entry is that they are often used interchangeably to refer to inground swimming pools that have a gradual entry from ground level into the water, instead of traditional steps. This entry is designed with a slight non-slip slope, providing a long and gentle transition into the pool.