7+ Ways to Create Backyard Hot Tub Privacy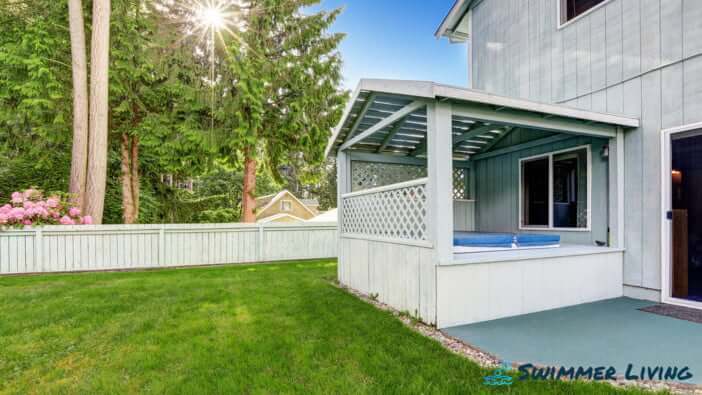 Adding a hot tub to your backyard is an exciting addition, one that requires more preparation than you would expect. Similar to owning a pool, a hot tub is typically something people like to enjoy privately.
With neighbors living next door or people passing on the street, finding a way to enjoy your hot tub without random eyes finding you is essential to consider.
Fortunately, there are several ways to create privacy, and this article will list several of the best backyard hot tub privacy ideas.
Disclosure: As an Amazon Associate, this site earns from qualifying purchases. Thank you!
Best Ways To Create Backyard Privacy for Your Hot Tub
Here are the seven best ways to create some privacy in your backyard while using your hot tub.
1. Add a Privacy Fence
A fence won't just provide privacy for your hot tub but your yard altogether. Using this kind of structure will allow you to walk around in your bathing suit on a hot day or at a cookout with your family without feeling exposed or uncomfortable.
That can be crucial in giving you peace of mind, whether you want to unwind or so your children feel safer.
Of course, a privacy fence is a significant investment, depending on what type of material you opt to use. Still, as far as the privacy solutions on our list, a fence consistently delivers at all times and from all angles.
2. Add a Privacy Screen
If you aren't interested in adding a whole fence to your yard, you could always check out the benefits of a privacy screen. They aren't as large or as expensive as wrapping a fence around the perimeter of your yard, but will still add an effective layer to block your hot tub from onlookers.
This is a good option for large yards, particularly if you don't want to commit to the expense of a fence.
3. Hang Decorations or Drapery
Hanging a tapestry or using drapery in your backyard as decorations is another option. These offer both form and function, giving you an attractive privacy screen to shield your hot tub.
That not only adds a flare of personality and style to your outdoor living space but grants the secluded feeling you're searching for.
4. Add a Large Shrub or Extra Greenery
If you wish to be discreet about your desire for privacy or worry you'll insult your neighbors by putting up fences, there are simple solutions to gain privacy and avoid both of these fears.
Adding a wall of hanging plants or planting a few shrubs and tiny trees will appear more natural in your yard and offer the privacy you want. Adding more plants will also add even more splashes of green to the beauty of your backyard.
5. Decorative Panels
If a privacy fence and screen still sound like too much, you can look into purchasing some decorative panels. They are similar to a screen but add a little more style and aren't as harsh as a full screen or wall.
Decorative panels come in numerous colors, designs, and varying levels of privacy. Some are slightly see-through for a more open and less confined area, while others are solid and can't be seen through at all. It's up to you to choose whatever aesthetic you want.
6. Add a Retractable Canopy or Umbrella
While the canopy rests above us, some angle downwards and can supply a small amount of privacy. If you're looking for something that won't take up much yard space or make your hot tub feel blocked anywhere, a retractable canopy is a great option.
In addition, some umbrellas are designed for your hot tub. As with a canopy, it can keep prying eyes away, making it one of the most effective backyard hot tub privacy ideas.
Both options have secondary benefits, as they will bring shade and make your hot tub more enjoyable by keeping you from overheating under the sun's rays.
7. Place Your Hot Tub Inside or Out of Sight
The right location can be just what you need to get the privacy you desire. Placing your hot tub strategically in your yard doesn't require you to spend any money. But you could also look into putting your hot tub inside your home, either on a porch or in a designated room (or in the ground). 
Creating room for your hot tub to go indoors will guarantee you'll get to use it year-round. Of course, this type of project can be expensive and time-consuming. But, if you're willing to make the investment, you won't have to take extra steps to gain privacy.
However, if you're set on keeping your hot tub outside, you could place it in a way that neighbors cannot see. For instance, you could put a hot tub inside or off to the side of a gazebo or porch, if you have either.
Even a neighbor's fence can provide a degree of privacy for your hot tub if it has suitable dimensions.
Frequently Asked Questions
Here are some of the most frequently asked questions regarding backyard hot tub privacy.
Do you need a fence around a hot tub in the backyard?
While setting up fences and privacy screens gives you your own isolated space, they aren't just for your privacy. In some states, it's required to have some form of fence around a hot tub to keep children from entering it without supervision.
It will also keep trespassers out of your hot tub, alongside any adults you didn't permit to use it.
How far away from the house should a hot tub be?
You don't want to place your hot tub too far from your home unless you have an outdoor changing area or bathroom nearby. Positioning your hot tub close to your house is especially beneficial in colder months as it will limit your time in the cold when wet.
You mustn't place your hot tub directly beside your home or anywhere within five feet of the walls. Remaining five feet away is enough space to keep your home safe from any potential hazards and close enough to make a quick walk back and forth from your hot tub to your home.
Is adding a fence or putting up a privacy screen better?
It depends on what you want in terms of backyard hot tub privacy ideas. A fence is a long-term, fully protected privacy option. While it is the most expensive option, it has multiple uses, such as keeping pets and children inside and trespassers out.
If you're looking for a temporary solution for gaining privacy for your hot tub, a privacy screen is cheaper and offers just as much privacy for a smaller area. It can also have any design, color, or style you want.
Are outdoor hot tubs easier to maintain than indoor hot tubs?
Outdoor hot tubs are much easier to maintain compared to indoor hot tubs, but that doesn't mean the indoor variety isn't worth investing in. They can be easier to use, especially if you don't want to spend the extra for an outdoor, year-round hot tub.
Outdoor hot tubs are more straightforward to install and maintain. Moreover, their ventilation is superior because it's exposed to open air, and will drain naturally when you need to switch out the water.
More FAQs
How to make a hot tub private cheap?
To make a hot tub private on a budget, the most affordable and simplest solution is to opt for fence panels. These can be easily installed within a weekend. If you have a slightly larger budget and desire a more aesthetically pleasing option, you can consider hiring a contractor to install custom tongue and groove or slatted fencing around your home spa, providing a high-quality and stylish finish.
How can I enclose my hot tub?
You can enclose your hot tub using various options such as gazebos, pergolas, retractable privacy screens, screened patios, sunrooms, temporary solariums, stone walls, or below a raised deck.
How do people get hot tubs in their backyard?
People can get hot tubs in their backyard by having a delivery crew bring the hot tub to their home and placing it on a hot tub cart. The crew will then roll the cart into the backyard and position the hot tub in the desired spot. This process is typically straightforward and uncomplicated.
What is the best wall covering for a hot tub room?
The best wall covering for a hot tub room depends on various factors. Some examples of suitable options include cement walls, glass enclosures, or a room lined with cedar. It is important to use water-resistant drywall, specifically designed for bathrooms and kitchens, to ensure durability and protection against moisture.
How do you block wind around a hot tub?
To block wind around a hot tub, you can create a windbreak by setting up small walls, privacy panels, or plants that complement your backyard design. Installing a wind block on the sides where the wind is strongest can help preserve your desired view.
How do I make my hot tub feel private?
To make your hot tub feel private, you can enhance the ambiance by incorporating a gazebo or pergola structure. Constructed with wooden beams and adorned with fabric curtains or screens on all sides, these enclosures provide soundproofing and ensure privacy. Additionally, you may want to consider incorporating plant structures to further enhance shade and seclusion.
How to build a privacy screen around hot tub?
To build a privacy screen around a hot tub, you can incorporate privacy enclosures into your landscape design. One affordable and efficient option is to use bamboo rolled fencing, which provides the necessary privacy. For a more exotic touch, consider constructing a living screen using bamboo. To prevent the bamboo from spreading excessively in your garden, it is advisable to include a root barrier.
Can you build frame around a hot tub?
The question is: "Can you build a frame around a hot tub?"Rephrased answer: Yes, it is possible to construct a frame around a hot tub or spa, which not only provides convenient access but also adds a polished and professional touch to its appearance.
How do you secure a freestanding privacy screen?
To secure a freestanding privacy screen, the most effective method is to anchor it using concrete blocks. In case you reside in a windy area, t-braces or concrete jersey barriers can be utilized to prevent the screen from being blown away. Additionally, these anchoring methods can also support the hanging of items from the screen if desired.
How do you anchor a freestanding privacy screen?
The way to anchor a freestanding privacy screen is by driving post anchors vertically into the soil or by using post bases screwed into concrete using wedge anchors. This type of hardware also helps in ensuring that the post is perfectly vertical, making it easier to plumb.
Can I build a deck around my hot tub?
You can build a deck around your hot tub if it is at ground level. By constructing deck tiers around the hot tub, you can enhance accessibility for getting in and out. It is important to ensure that there is ample space left around the hot tub to allow for easy access to the tub's service panels.
Can a hot tub be placed against a wall?
A hot tub should not be placed directly against a wall or property line, whether you're draining it or changing the filter. It is important to find a comfortable middle ground where you can still easily fill the hot tub with water.