8+ Hot Tub Brands for a Luxurious Soak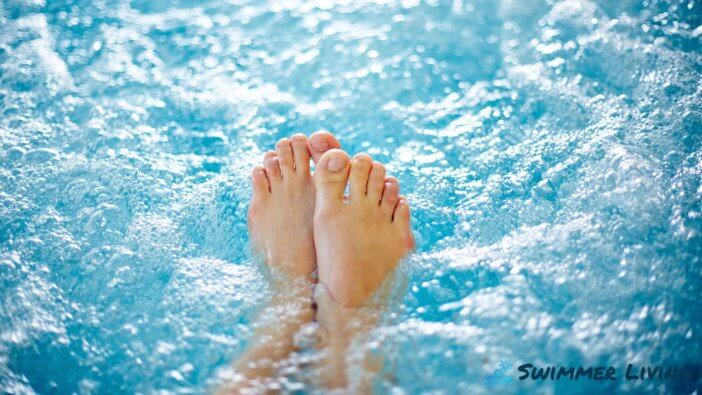 Want to relax in the comfort of your home or backyard in some marvelously warm bubbles? The best way to achieve this is by purchasing a hot tub from a reputable brand.
Hot tubs are amazing relaxation tools and provide a soothing spa experience anytime you want.
These hot tub brands are ranked and listed in no particular order because everyone has their preferences and style.
Disclosure: As an Amazon Associate, this site earns from qualifying purchases. Thank you!
Sundance Spas
Sundance Spas offer some of the most ideal hot tubs in the country. The company has five highly rated series of hot tubs available for purchase. Depending on size, Sundance hot tubs can usually seat two to seven people. They also have in-ground options.
If you are looking for durable but affordable hot tubs, check out any options by Sundance Spas. Their hot tubs range in price from $4,000 to $16,00, making them one of the most affordable, quality hot tub brands.
Sundance Spas offers premium features such as massage jets, underwater lighting, and smart device syncing. They also make energy-efficient models for better environmental and budget impact. The Sundance Splash Series is a great starting point for those dipping their toes (pun intended) into the hot tub realm.
Bullfrog Spas
Bullfrog Spas has got you if you want hot tubs for bigger groups. They offer luxury hot tubs that can seat upwards of ten people. They pride themselves on quality tubs that can last up to ten years. You even get a lifetime warranty for the tub's interior molding.
Bullfrog Spas has five available series of hot tubs, ranging from budget-friendly to supreme luxury. However, even their affordable hot tubs are fitted with quality materials and a few perks.
If you choose additional features, you can look forward to 17 interchangeable jets, waterfalls, and foam insulation.
Budget-friendly hot tubs from Bullfrog Spas can cost you $5000, and their most expensive option is around $15000.
Installing a Bullfrog Spa hot tub is not costly; many hot tub installation companies can do it. The Bullfrog Spas Model 8 is an excellent option for large groups.
Marquis Spas
Marquis Spas is a hot tub brand that focuses on hydrotherapy. They offer affordable hot tubs specifically designed to soothe aches.
They are an excellent option for athletes or fitness lovers. The hot tubs can seat upwards of ten people, depending on the type you choose.
Each of Marquis Spas' hot tubs features a water massage system. They all come with covers to help with durability.
You can choose from their range of swim spas as well. Added features include DuraBase foundations, entry lights, and an all-weather package.
Marquis Spas hot tubs cost between $4,000 and $8,000, and they offer low-cost installations. A significant downside is that they provide a limited warranty of one to five years for the parts and structure. The Crown Collection is ideal for both relaxation and hydrotherapy.
Jacuzzi
Jacuzzi is a classic brand whose name became synonymous with hot tubs. They make some of the most durable hot tubs on the market. Jacuzzi also has patented water and air technology which makes their hot tubs particularly relaxing.
The Jacuzzi brand offers a wide range of hot tubs that will cost you from $6,000 to $17,000 and an average installation fee.
While pricier than other brands, you get guaranteed quality and excellent service. A hot tub from Jacuzzi has a warranty of three to ten years, depending on the part.
Hot Spring
Hot Spring has been around since 1977 and offers over 20 hot tub models to choose from. Heir hot tubs are not expensive to run or maintain and come with a warranty of five years for parts. The tubs are energy efficient due to insulated foam layers and can seat two to five people.
Installation is not expensive; hot tubs cost anywhere from $3,000 to $16,000. Hot Spring Spas come in three lines. Every hot tub is customizable. Hot Spring offers a low-maintenance line, Freshwater Salt System, which can further cut costs.
Caldera Spas
Caldera Spas is the most budget-friendly hot tub brand. Their cheapest hot tub is only $2500, but their most expensive option is around $16000. Each hot tub comes with a 10-year shell warranty. Other parts have warranties of one to ten years.
The Caldera brand is for you if you want comfort and energy efficiency. Their smallest tub seats one, but they have options that can seat up to eight people. The tubs are affordable to install and made of acrylic. They are also fully insulated, and even make saltwater tub options.
Master Spas
Master Spas were founded in 1978 and offer a wide range of hot tubs in four brand lines for every price point. Their cheapest hot tub is $4,000, and the priciest is $15,000. They are inexpensive to install, and the biggest hot tub can seat up to eight people.
Their hot tubs are made of high-quality icynene foam insulation with acrylic shells. This makes them quite an energy-efficient option. Master Spas hot tubs feature stereo features, lighting options, and more.
ThermoSpas
A highly customizable brand, Thermospas offers excellent hot tubs. Their hot tubs feature over 120 jets and are made of cast acrylic and patented panels. They have a 20-year warranty, making them one of the most durable options.
A ThermoSpas hot tub can run you anywhere from $5000 to $19000 to buy and not much to install. The smallest hot tub can seat two, and the largest can seat upwards of ten people. The ThermoSpas hot tubs are pretty simple but come with a wide array of accessories.
Frequently Asked Questions about Hot Tub Brands
Do you still have questions about hot tub brands? Here are some answers to the most frequently asked questions.
What company sells the most hot tubs?
As of 2022, Masco Corporation is a top seller of jacuzzis. Their revenue is just over $8 billion, and they supply the most hot tubs. Following behind them is Jacuzzi Brands LLC, which grossed over $1 billion in revenue in 2022. Other companies that have not crossed the billion-dollar threshold but have significant sales include Bullfrog International and Cal Spas.
What company makes hot tubs?
Many companies make hot tubs. Hundreds of hot tub manufacturers exist in the USA, and millions worldwide. Some mentioned in our list include Jacuzzi, Sundance Spas, and Bullfrog Spas.
How long should a hot tub last?
Hot tubs last anywhere from five to twenty years. If the hot tub is cheaper and made of lower-quality materials, it will barely reach the five-year mark. High-quality hot tubs of excellent craft and suitable materials can last 15-20 years.
When should I replace my hot tub?
Ideally, hot tubs should get replaced every 10-15 years. If you are renting or purchasing a home with a hot tub, ask to see the date of purchase. You should also check the hot tub's quality to help determine if it needs replacing.
Quality hot tubs can last for 20 years but replacing them around the 15-year mark is a great way to prevent leaking and electric problems. Low-quality hot tubs should get replaced after five or fewer years to prevent a potential hazard.
More FAQs
What is the most reliable brand of hot tub?
The most reliable brand of hot tub is Jacuzzi. Their hot tubs are meticulously engineered with top-notch materials, ensuring a superior product. Jacuzzi hot tubs undergo over 250 quality checks and adhere to exceptional inspection standards, establishing a reputation for dependability.
What type of hot tub is easiest to maintain?
The easiest type of hot tub to maintain is one equipped with a salt system. By utilizing electrolysis, these systems convert salt into chlorine, eliminating the need for manual chlorine addition. This not only saves time but also reduces expenses.
What is the difference between cheap and expensive hot tub?
The difference between a cheap and expensive hot tub lies in their energy efficiency and insulation technology. Smaller plug & play hot tubs, which are cheaper, take longer to heat up and are less energy efficient compared to larger, more expensive hard-wired hot tubs. Expensive hot tubs, on the other hand, feature advanced insulation technology in both the shell and cover, allowing them to retain heat more effectively and require less energy to maintain the desired temperature.
Can a hot tub last 30 years?
A hot tub can last for 30 years with minimal maintenance if the shell, structure, and outer cabinet are well-maintained. Regularly cleaning the cabinet with a hose and promptly fixing any small leaks will ensure the longevity of the hot tub's structural components.
What brands are Jacuzzis?
The brands that fall under Jacuzzi include Jacuzzi, Sundance, Dimension One Spas, Hydropool, ThermoSpas, and BathWraps.
Is there a difference between Jacuzzi and hot tub?
There is indeed a distinction between Jacuzzi and hot tub. Jacuzzi is essentially a specific brand name for a hot tub. Each brand of hot tub will have its own unique features and components that differentiate it from other brands. However, instead of fixating on the name, it is advisable to base your hot tub purchase on the quality and features that align with your budget and preferences.
Which hot tubs last the longest?
Hot tubs from leading brands like Jacuzzi® Hot Tubs or Bullfrog® Spas have the longest lifespan compared to others. By investing in a higher-quality hot tub, you can significantly extend its expected lifespan. Typically, these types of hot tubs last for around 10-15 years, but with proper maintenance, they can easily reach up to 20 years.
Why are Jacuzzi hot tubs so expensive?
Jacuzzi hot tubs are expensive due to their leading-edge design, which often incorporates more costly materials. Additionally, their large size and weight contribute to high delivery and freight costs. However, certain dealers may offer free delivery and standard installation, alleviating some of the expenses associated with purchasing a Jacuzzi hot tub.
Is Jacuzzi a luxury brand?
Jacuzzi is indeed a luxury brand, boasting a rich heritage of distinctive design and groundbreaking advancements spanning more than six decades. Uncover the captivating narrative behind the Jacuzzi® Brand, starting from its extraordinary origins to its current status as a renowned global leader in opulent hot tubs and lavish bath products.
Are bullfrog spas worth the money?
Bullfrog Spas' quality construction and installation have been found to be worth the money by customers, as they maintain integrity over many years of use. However, individuals seeking more budget-friendly options may find that Bullfrog Spas' prices are slightly higher compared to those offered by other companies.
What brand is synonymous with hot tubs?
The brand that is synonymous with hot tubs is Jacuzzi. Jacuzzi is a company that specializes in hot tubs and they were the pioneers in manufacturing hot tubs with a hydrotherapy pump. Their immense success has led to their brand name becoming synonymous with hot tubs, whirlpools, and spas.
What is the generic term for Jacuzzi?
The generic term for Jacuzzi is a jetted hot tub, which is also a brand.
Who is the largest hot tub manufacturer?
The largest hot tub manufacturer is Master Spas, which is headquartered in Fort Wayne, Indiana. They proudly produce all of their swim spas and hot tubs at their hi-tech, 36-acre campus. Master Spas is not only the largest swim spa manufacturer globally but also one of the largest manufacturers of portable spas and hot tubs in the country.
What is the most expensive part of a hot tub?
The most expensive part of a hot tub is typically the shell, which refers to the interior surface, due to variations in materials and components used during manufacturing.