8+ Salt Water Hot Tub Brands for a Chemical Free Soak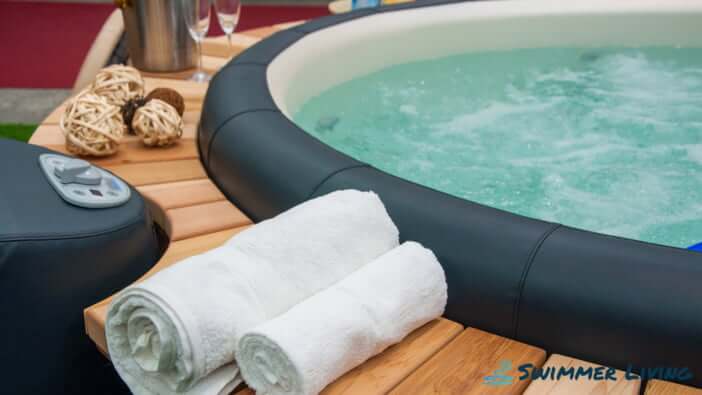 You might have heard the debate between a regular hot tub and a salt water hot tub. Long story short, salt water hot tubs have several great benefits, including using no chemicals and being softer on your skin. Since salt water hot tubs don't use chemicals, the upkeep cost is lower.
Disclosure: As an Amazon Associate, this site earns from qualifying purchases. Thank you!
Best Salt Water Hot Tub Brands
If you're in the market for a chemical-free soak, here are the best salt water hot tub brands you can consider trying in your backyard or patio.
These brands are ranked and listed in no particular order because everyone has their style and preferences.
1. Caldera Spas
Caldera Spas markets their salt water hot tubs as an investment in taking care of yourself, not the other way around. They use a Freshwater Salt System that helps your hot tub water last up to a year by generating chlorine from salt in a disposable cartridge. Each cartridge lasts up to four months, and you can easily replace them.
You can also set your desired chlorine level with just a button press—no need to manually dose your water with the right amount of chlorine.
2. Hot Spring Spas
Hot Spring Spas is another salt water hot tub brand that utilizes the Freshwater Salt System. That system works with several of Hot Spring's luxury hot tub models, including the Highlight and Limelife collections.
That said, the Highlight collection has more features, such as two types of massage jets, Comfort Control, and customizable LED lighting to make a more colorful and entertaining spa session.
If you like your hot tubs more energy efficient, both collections have high-quality insulation and titanium heaters.
3. Nordic Hot Tubs
Nordic Hot Tubs is one of the largest salt water hot tub brands on this list, with various seat numbers, colors, and cabinet colors.
Some models even have unique seating features, like a two-person bench or full-body lounging seats, as well as shapes like hearts and triangles.
Some hot tubs have the Duel Therapy System that uses massage jets with circular whirlpool motion to help massage your whole body. The largest sizes have eight seats and an optional stereo.
Whether you're looking for a full-body massage or something to work the knots out of your back, Nordic might be worth trying.
4. Home and Garden Spas
While Home and Garden Spas does not have any salt water tubs specifically, their hot tubs are salt water compatible. Therefore, you would need to purchase a salt water system, which can cost almost as much as a hot tub.
However, Home and Garden Spas pride itself on selling affordable hot tubs, so combining one of their hot tubs with a salt water system amounts to a luxury model.
They also have some unique jet systems for excellent hydrotherapy.
Their jets create whirling jets across each seat to massage your body and beams that massage your neck and shoulders without much splashout. Plus, a cute mood light with changing colors illuminates the waterfall and the rim of the tub.
5. CO-Z
CO-Z is better known for its inflatable hot tubs, which may not sound like the best choice among more luxurious hot tubs. Still, they could be an affordable alternative if you want a hot tub for a short time or a single season.
The tub should inflate within ten minutes, and you must press a button to get the jets rolling with this model.
This model might also work best as a hydrotherapy hot tub since you cannot use water over 140 degrees, and it might get warmer much faster without more insulation. The jets still work pretty well, though.
6. WSINC
WSINC hot tubs bring a nice luxurious touch without spending too much money on the exterior design. Plus, they have excellent jet power since their 6-person model contains 46 jets, and their 3-person model contains 27 jets.
The Lyra is a particularly appealing model since it comes with two seats and one full lounger so that you can sit back with a couple of friends or lounge all by yourself.
As with any great hot tub model, you can enjoy a multi-color lighting system around the tub and beneath the waterfall. You can easily convert the filter system to salt if you desire.
7. Intex
Here's our second inflatable salt water hot tub pick. You only need a few minutes to inflate this hot tub, and activating the 170 bubble jets only takes one button push.
We like how it comes with inflatable headrests to relax your body entirely. The Intex 6 model can fit up to six people, and the PVC vinyl material helps stand up to heavy usage.
The manufacturer does not recommend using this model when the temperature is less than 40 degrees. Luckily, it does come with LED lights to help make nighttime use more accessible and more entertaining.
8. American Spas
Depending on the model, you can pick from various fountain types with American Spas hot tubs. We also enjoy the detailed contouring on each hot tub seat, allowing you to relax against each bubbling jet.
Besides being able to convert to salt water, American Spas carries powerful titanium heaters and premium recycled insulation to keep your hot tub water warmer for longer.
Frequently Asked Questions about Saltwater Hot Tubs
Do you still have questions about the best salt water hot tub brands? Here are some answers to the most frequently asked questions.
Which hot tubs are salt water?
Not all hot tub brands carry salt water hot tubs, but many have hot tubs that are compatible with salt water. You can find most salt water systems at pool supply stores, but remember that they may cost as much as a regular hot tub.
Is it worth getting a salt water hot tub?
Given the benefits of swimming in salt water, we think shopping from salt water hot tub brands is worth it. As mentioned before, you don't have to do quite as much maintenance on a salt water hot tub, and salt water might be better on sensitive skin.
Some salt water hot tub brands might cost a little more than standard models, but at least you won't have to keep buying chemicals and testing kits for salt water.
Can you make any hot tub a salt water tub?
Using a saltwater generator, you can turn a hot tub into a saltwater tub. You can buy one of two salt water generators: on-line or drop-in.
Drop-in chlorinators don't require you to make permanent alterations to your hot tub; they're pretty easy to set up. However, some models need a thin cord to hang over the side of your tub from the generator, so ensure you don't tug it out accidentally.
On-line chlorinators require a little more work to install since it requires you to connect to your hot tub's plumbing. In other words, the chlorinator must become part of the hot tub's circulation system. Be careful not to void your hot tub's warranty by installing one; you may need a professional plumber to get the job done.
How long does a salt water hot tub last?
A salt water hot tub can last up to ten years with proper maintenance. However, you may need to be more vigilant with maintenance on this hot tub since salt can corrode the hot tub over time.
More FAQs
Who makes the best saltwater hot tub?
The Hot Spring Pulse is considered the best saltwater hot tub of 2022. It has a spacious interior and a 7'5″ x 7'5″ footprint, making it one of the top-selling saltwater spas this year.
What is the number one selling hot tub in the world?
The number one selling hot tub in the world is the Sundance 880 Series Optima. Its popularity is not a result of chance, but rather a combination of exceptional features, proven performance, and great value for the money.
Are bullfrog spas saltwater?
Bullfrog Spas now offer the Salt Care System, which allows for the use of saltwater in their spas.
Which hot tubs are salt water?
The Cantabria Utopia Series, Caldera Spas, Prism Limelight Collection, and Grandee Highlife Collection from Hot Spring Spas are all salt water hot tubs. The Cantabria Utopia Series from Caldera Spas has 8 seats and 74 jets. The Prism Limelight Collection from Hot Spring Spas has 7 seats and 73 jets. The Grandee Highlife Collection from Hot Spring Spas has 7 seats and 49 jets.
Do salt water hot tubs last?
Salt water hot tubs do last, as manufacturers claim that with proper maintenance, the saltwater can be kept for up to a year and salt cartridges only need to be replaced every 4 months (or 120 days). However, similar to traditional water care systems, maintaining a saltwater hot tub requires the use of various water care products.
What is the average cost of a salt water hot tub?
The average cost of a saltwater hot tub ranges from $6,500 to $18,000. If you already have a hot tub and want to add a saltwater system, it will cost you between $500 and $1,700. This system is typically compatible with high-end spas. Additionally, opting for a saltwater generator is more cost-effective compared to using chlorine or bromine, and it eliminates the need for chemical usage.
Can you use regular salt in a salt water hot tub?
Regular salt cannot be used in a salt water hot tub because it is coarser and contains additives that can potentially harm the metal electrode plates in the system.
What are the negatives of a saltwater hot tub?
The negatives of a saltwater hot tub include the potential damage to the tub itself due to the corrosive nature of salt. Elements such as heaters, pump seals, bearings in the jets, and stainless-steel fittings can be harmed by the saltwater.
Do you need a special hot tub for salt water?
You do not need a special hot tub for salt water. Any hot tub can be transformed into a salt water hot tub by adding a salt-chlorine generator. The salt dissolves in the water and generates chlorine, effectively maintaining the cleanliness of the water.
How often should you change the water in a salt water hot tub?
The water in a saltwater hot tub should typically be changed approximately every 12 months, as opposed to the recommended three-month interval for traditional chlorine spas, according to most manufacturers.
Is a saltwater hot tub better than a regular hot tub?
A saltwater hot tub is superior to a regular hot tub due to its easier maintenance, skin-friendly properties, absence of chlorine odor, and enhanced spa experience. Additionally, the reduced need for refills in salt water systems contributes to water conservation, making them more environmentally friendly.
What is better salt or chlorine hot tub?
The statement: "Chlorine hot tubs require less upkeep, have a longer lifespan, are more affordable and cost-effective, while saltwater systems are more complex to install, resulting in higher installation and maintenance fees."
Why would you want a saltwater hot tub?
Restated question: What are the benefits of having a saltwater hot tub?Rephrased answer: A saltwater hot tub offers the advantage of eliminating the lingering "chlorine smell" commonly found in some pools and hot tubs. This smell is typically caused by chemical residues in the water, resulting from inconsistent manual dosing of chlorine. However, with salt water purification systems, hot tubs can maintain a steady level of chlorine, effectively eradicating these residues.
Are salt water hot tubs more expensive than chlorine?
Saltwater hot tubs are typically more expensive than chlorine hot tubs due to the initial investment required for the salt filtration system. Although salt is cheaper than traditional hot tub chemicals like chlorine, the cost of the filtration system often takes several years to recoup.
Do saltwater hot tubs use chemicals?
Saltwater hot tubs do not use chemicals. Instead, spa saltwater systems generate chlorine naturally, eliminating the need to purchase and store potentially hazardous bromide or chlorine tablets. This is particularly beneficial for households with small children, as it reduces the risk of accidents. Additionally, saltwater hot tubs have a more pleasant odor compared to traditional chlorine-based tubs, as they do not produce the strong chemical smell commonly associated with chlorine.
Can I get a saltwater hot tub?
Saltwater hot tubs do exist and they come with several advantages, although there are also some drawbacks to consider. It is crucial to carefully evaluate all available options and thoroughly examine the pros and cons before making a decision to invest in a hot tub.
Can I use Epsom salt in my hot tub?
Can Epsom salt be used in a hot tub? Epsom salts should not be used in a hot tub under any circumstances.