3+ Key Differences Between Hot Tub and Jacuzzi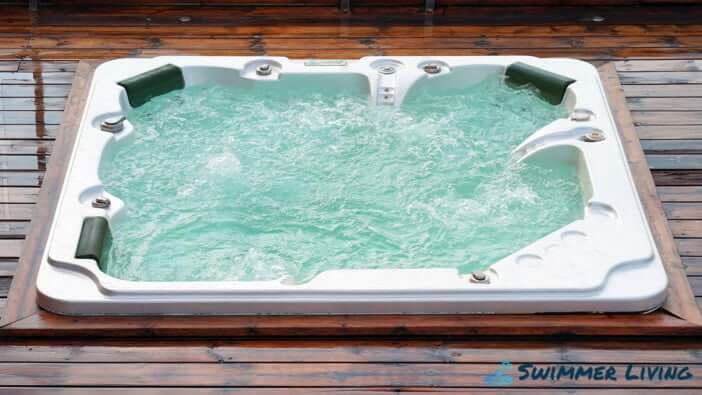 Though many use the terms "hot tub" and "Jacuzzi" interchangeably, these two words do not actually refer to the same thing.
A hot tub, or spa as it is often referred to, is a large tub of hot water featuring a whirlpool device where people soak, socialize, and/or benefit from hydrotherapy. Jacuzzi is a trademarked brand of hot tubs and was the first to market a whirlpool-equipped tub. 
Hot tubs differ from Jacuzzis in the same way "tissue" differs from "Kleenex," or "lip balm" differs from "Chapstick."
Jacuzzi is a brand name that has become synonymous with the product the brand markets. Fun fact: linguists call words like these deonyms.
Though Jacuzzi and other hot tub manufacturers offer many similar products, Jacuzzi differs from its competitors in three key areas.
Disclosure: As an Amazon Associate, this site earns from qualifying purchases. Thank you!
1. The History of Hot Tubs
In the early 1900s, the Jacuzzi family emigrated from Italy to California, where they built a livelihood designing water pumps for agricultural use.
When a family member developed rheumatoid arthritis in the 1950s, the Jacuzzi brothers applied their hydraulics know-how to create a portable hydrotherapy pump that could transform any bathtub into a wellness spa.
The Birth of Jacuzzi
After their invention successfully eased their family member's arthritis, the brothers went on to innovate their design and market the first hot tubs with built-in jet whirlpools. Thus, the first hot tub was developed and marketed by Jacuzzi.
Hot tub design and engineering advances have improved dramatically since the Jacuzzi brothers marketed the world's first integrated whirlpool bath––called "the Roman"––in 1968.
Hot Tub and Spa Innovation
Over the years, many high-tech innovations have made today's spa experience more enjoyable than ever.
Bluetooth-enabled remote monitoring systems, "smart" hot tub apps, LED lighting, and waterfall features are among the many available from several spa-makers, but none can match Jacuzzi's long track record, market dominance, and reputation for quality.
Though Jacuzzi offers three "Entry Level" budget models––the Echo, Mood, and Soul–– ranging from $4000 to $7,999, most of its stock is priced at over $12,000. If you're looking for luxury, Jacuzzi is for you.
2. Entertainment
Though Jacuzzi hot tubs are synonymous with the luxury spa experience, when it comes to transforming an evening of hot tubbing into a Netflix-and-chill night, they lag behind manufacturers like Bullfrog, HotSpring, and Slovenia's SPAmbient.
Built-In Flat Screen TVs
Brands like these offer models with built-in, Bluetooth-enabled wireless speakers and anti-glare-coated monitors that will stream your favorite TV shows along with the bubbles.
Though you cannot buy a Jacuzzi hot tub outfitted with a TV, the brand's engineers and designers are no Luddites.
The SmartTub App
All Jacuzzi LLC hot tub models–including Jacuzzi brand hot tubs and Sundance Spas hot tubs–are compatible with the SmartTub app.
With a paid subscription, the app offers product information for a user's hot tub model, maintenance alerts, and access to monitor settings and energy efficiency data.
BLUEWAVE Spa Stereo
The BLUEWAVE Spa Stereo is available with any model in Jacuzzi's J-500 Collection. This audio add-on offers premium speakers and Bluetooth audio connectivity to control your spa sounds from your smartphone.
If you'd rather not risk getting your phone wet, audio controls built into the ProTouch control panel will also do the trick.
3. Eco-Friendliness
Jacuzzi may have big shoes to fill, but other spa-makers are better at shrinking carbon footprints. So, where Jacuzzi strives for the overall luxury experience, many other brands consider the ecological impact of their products.
Energy Efficiency
Bullfrog Spas cites data compiled by the California Energy Commission and US Energy Information Administration to show that its most energy-efficient models are more energy efficient than comparable Jacuzzi models.
Bullfrog credits its patented JetPak Therapy System for the savings because the design uses about 90 percent less plumbing than conventional hot tubs, which means less energy is necessary to move water through the jets.
HotSpring hot tubs claim the SilentFlo 5000 Circulation Pump in every model they sell uses less energy than a 40-watt lightbulb.
Insulation Technology
HotSpring's Highlife Collection spas are equipped with ribbed base pans that create insulated air space, increasing energy efficiency by minimizing contact with the cold ground.
The company's Limelight and Hot Spot Collection spas are insulated with FiberCor, a proprietary insulation whose wool-like fibers make it four times as dense as traditional foam insulation.
Each HotSprings hot tub comes with a hinged, custom-fit foam-core cover, ensuring a tight seal to keep heat in and reduce the energy required to keep temperatures where you want them.
Eco-friendly innovations like these mean several HotSprings models are among the most energy-efficient on the market.
Custom Programming
Jacuzzi's closest competitor to some of the environmentally friendlier hot tubs out there might be its J-1000 model, which features a control panel you can program based on your average usage.
Once you enter a sequence, your hot tub's filtration and heating cycles will pause when not in use, cutting down on unnecessary energy use.
Nonetheless, the design does not conserve as much energy as some of the HotSprings and Bullfrog models do.
Saltwater vs. Chlorine Hot Tubs
Another way to make your spa experience more eco-conscious is to choose a saltwater hot tub. Saltwater spas use fewer chemicals than chlorine hot tubs, and since you only have to replace the water once a year, they also use less water.
Not only are saltwater spas easier on the environment, but they come with more health benefits than hot water alone.
Saltwater hot tubs can soothe aching feet, calm inflammation, and treat magnesium deficiencies. Saltwater options are available from several spa-makers, but notably, Jacuzzi is not among them.
Frequently Asked Questions
Are you still thinking about taking a dip into the spa market? Here are a few answers to the most commonly asked questions.
Are a Jacuzzi and a hot tub the same thing?
Not exactly. A Jacuzzi is a trademarked brand of hot tubs and the industry's first.
Which is better, a Jacuzzi or a hot tub?
If you are looking for the prestige of a trusted brand, stick with Jacuzzi. On the other hand, if eco-conscious options and/or a built-in TV or screen are important to you, go with a brand that offers models with features like these.
Which is cheaper, a Jacuzzi or a hot tub?
Though Jacuzzi was the first to market whirlpool-designed hot tubs, most on the market now come with this feature, along with a lower price tag. Jacuzzi does offer a few budget options, but if you're looking primarily for value, a different brand would be more likely to meet your needs.