11+ Bathing Suit Material Types That Will Make You Look and Feel Amazing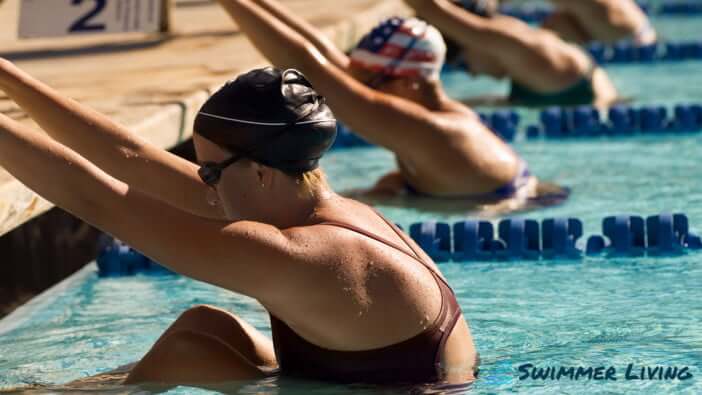 Nothing tops going out swimming during those hot summer afternoons. But choosing what swimsuit to wear is not that easy. You need a suit with material that will make you look and feel amazing.
Functionality is also another critical factor to consider when choosing a bathing suit. Here are some of the best bathing suit material types available in the market.
Disclosure: As an Amazon Associate, this site earns from qualifying purchases. Thank you!
Sustainable Bathing Suit Materials
The most sustainable bathing suit material is wool. Before synthetic bathing suit materials were invented, wool was mainly used to manufacture swimsuits.
But natural bathing suit materials absorbed water, negatively affecting their functionality as swimwear. 
Sustainable bathing suit materials are either:
Natural materials
Recycled materials
Natural Materials
Natural materials have regained popularity in the current market due to the push for sustainability. Materials such as wool do not require much processing during production and are not petroleum-based compared to synthetic materials.
Wool and other natural materials can give you a retro vibe when you go out swimming. The materials often create perfect full or partial-covering outfits.
It makes them ideal for people who don't want to show too much skin. Due to its limited functionality as swimwear, it is suitable for wearing natural material bathing suits when beach lounging.
Hemp fabric is also an excellent choice for a naturally made bathing suit. Hemp is eco-friendly and has anti-bacterial properties.
But this is a bathing suit you should avoid using as swimwear. Instead, you can wear a bathing suit made of hemp as a fashion statement or when you don't want anything synthetic touching your skin.
Pros of Natural Materials
Swimmers can knit their bathing suits independently using wool
Pose no threat to the environment
Cons of Natural Materials
Natural materials get heavier when in water
Can stretch in water losing its shape
It can get damaged by sea salt or the sun
Not durable
Recycled Materials
Natural materials don't have the same functionality as synthetic materials. But you can still wear an eco-friendly option by choosing a bathing suit made of recycled materials. The use of recycled materials can help reduce your carbon footprint on the planet.
One of the most common recycled materials used in bathing suit production is Econyl. Repreve is another bathing suit material made from recycled plastic.
Pros of Recycled Materials
Eco-friendly
Reduces waste created by plastic manufacturing companies
Aimed at achieving sustainability goals
Better functionality compared to natural materials
Cons of Recycled Materials
It may cost a bit more due to the added burden of recycling
It may not have all the features offered by new synthetic materials
Bathing Suit Materials for Swimming
Synthetic materials and blends are the best fabric for better functionality underwater. Regular and competitive swimmers who need bathing suits that look and feel amazing have to get synthetic fabrics.
Check out our posts on Spanish, Korean, Colombian, and French swimwear!
Synthetic fabrics are flexible in that they can get blended with different materials for optimal functionality. For instance, Elastane gets blended with Polyester to improve its durability and how it can stretch.
The best fabric for swimming is a blend of synthetic materials such as Nylon, Spandex, or Polyester. Manufacturers will often indicate the blended proportions of the materials used to build a bathing suit.
Nylon
Nylon is one of the most popular synthetic materials used in bathing suits. The material is ideal for swimming because it repels water and can dry quickly.
Bathing suits made of a blend of Nylon and Elastane can help you look and feel amazing by stretching and fitting you perfectly.
The blend proportions for Nylon bathing suits are usually 20% Elastane: and 80% Nylon. Taking care of Nylon bathing suits is easy because you can hand-dry them and hang them out to dry.
Pros of Nylon
Greater flexibility, especially when blended with other synthetic materials
Durable
Very soft
comfortable for demographics across different age groups
Cons of Nylon
Is susceptible to damage by Chlorine
No resistance to UV rays
Unable to absorb color making it difficult to print on
Polyester
Polyester is very common in competitive swimwear designs. This is due to its resistance to Chlorine and UV rays. Polyester is similar to Nylon in that it has quick-drying properties.
Polyester bathing suits are ideal for use in swimming pools or when in the ocean. You can also dye and print the material because it absorbs color. Polyester's soft material will leave you feeling comfortable and amazing once you put on your bathing suit.
Pros of Polyester
It does not lose its shape and is easy to launder
Durable
Colorfast
Skin-friendly fabric
Capable of repelling water
Cons of Polyester
Not environmentally-friendly
Some Polyester blends may negatively affect the quality
Polybutylene Terephthalate (PBT)
PBT is a plastic yarn fiber belonging to the Polyester classification of fabrics. The material is similar to Polyester because it has a smooth and light feel. PBT can float through water for enhanced swimming functionality when combined with a matte completion.
PBT is naturally stretchy, making it compatible with various body types and sizes. Although a member of the Polyester family, PBT's texture is tougher but lighter with a smoother fabric.
Pros of PBT
Chlorine resistant
Dries quickly
Resistant to moisture
Resistant to UV rays
Cons of PBT
Petroleum-based, thus not environmentally friendly
There are other Polyester-based materials more stretchy than PBT
Elastane
A 100% synthetic, Elastane is also known as polyurethane. The material was first developed for use in clothes in the 1950s.
The material is very elastic and often blended with other bathing suit material types, such as Nylon.
Elastane is responsible for enhancing the stretchiness of numerous materials, making it an ideal swimsuit.
Pros of Elastane
Cons of Elastane
Non-biodegradable material making it an environmental pollutant in the long run
May be expensive
Bathing Suit Materials Ideal Out of the Water
Some bathing suits are best worn when spending the day at the beach or near water. Natural materials are the best bathing suit material when off the water.
But we are not talking about wool anymore. Cotton is an ideal natural material when spending your day near water but not in the water.
Cotton
Cotton materials are often blended with bamboo to make a fashion statement from a bygone era. You can feel and look amazing wearing a bathing suit made of cotton, knowing it's eco-friendly.
Pros of Cotton
It can help you stand out when wearing pool or beach wear
It has a cooling effect, especially in hot weather
Cons of Cotton
It does not repel water
Creates drag due to water absorption when swimming
Other Bathing Suit Materials
You can get access to more materials if the ones we already covered don't meet your needs. Other materials and fabrics used for bathing suits, such as:
Scuba fabric
Lining fabric
Neoprene
Scuba Fabric
Ideal for deep-water diving due to its elasticity. Scuba fabric is mainly used for wetsuits. But unlike most wetsuits, a scuba fabric does not have an inner foam for improved warmth. This limits the depths one can dive to when in the water.
One disadvantage of scuba fabric is that it is stiffer, limiting movement when one is out of the water. Scuba fabric is opaque, giving you a modest style, especially if you don't want people to see your body.
Lining Fabric
Adding another material may be necessary if your bathing suit is a bit translucent. Get a lining fabric that complements the bathing suit material. A liner fabric material can help you feel more comfortable in your bathing suit.
Power mesh is one of the standard liner fabrics used in commercial bathing suits. An excellent liner fabric can help with different camouflage aspects left exposed by swimsuits, such as awkward or big love handles.
Neoprene
Neoprene is the material that helps keep divers warm. It is not a fabric but a synthetic fabric, which acts as an insulating layer in wetsuits. Neoprene is usually used in diving suits because it keeps divers warm even in extremely cold waters.
Neoprene is not manufactured similarly to other bathing suit materials. Hence, look for manufacturers and retailers specializing in diving suits if you need neoprene. The material is not comfortable, and divers often have to wear a bathing suit underneath.
FAQs
Here are some frequently asked questions on different types of bathing suit materials.
Which is better for swimming, Nylon or Polyester?
Consumers often struggle to decide which material is best for swimming between Polyester and Nylon. Both materials are excellent for swimming and can dry quickly. Nylon is slightly more flexible than Polyester but is not resistant to Chlorine.
Polyester is a better bathing suit material for swimming because it is resistant to Chlorine and UV light. The material is also more durable than Nylon, making it ideal for long-term use.
What else should one consider when buying a bathing suit?
A bathing suit can embarrass you if you don't consider several aspects before buying it. Here are some of the factors:
Weight of the material, don't go for something too light or too heavy
Durability
Cost
Colorfastness, choose a bathing suit material type that retains its color
Look at different bathing suits available and their properties before settling on one. Remember that no bathing suit is better than the other is; they all have different features and applications.
More FAQs
What material is best for bathing suits?
The best material for bathing suits is polyester, which can be blended with Lycra or used on its own. Polyester is considered the top choice for competitive swimwear due to advancements in its technology, resulting in an improved texture and overall feel. Additionally, polyester is highly resistant to chlorine and maintains its color over time.
What is normal swimsuit material?
The normal material for swimsuits is typically a blend of approximately 80% nylon and 20% of the flexible component, which can be referred to as LYCRA® if it is produced by The LYCRA Company, or alternatively known as spandex (SP) or elastane (EA) depending on the location and branding.
What to look for when buying a bathing suit?
When buying a bathing suit, it is important to consider several factors. Firstly, finding the right fit can be a challenge for 45% of individuals when shopping for swimwear. Secondly, it is crucial to choose a swimsuit that suits your specific body type. Additionally, paying attention to the quality of the bathing suit is essential to ensure durability and comfort. Lastly, it is advisable to always size up when selecting a bathing suit.
What bathing suit material dries fastest?
The bathing suit material that dries the fastest is often quick-dry swimsuits, which are typically constructed using fabrics like polyamide or lycra. These fabrics provide the benefit of drying very quickly.
What are eco friendly materials for swimsuits?
Eco-friendly materials for swimsuits include ECONYL, REPREVE, and Amni Soul Eco® Thread. ECONYL is a regenerated nylon fabric, while Repreve is made from recycled plastic bottles. Additionally, Amni Soul Eco® Thread is the first polyamide yarn that is both recyclable and biodegradable.
Is neoprene good for swimwear?
Neoprene is a popular choice for swimwear due to its closed-cell structure, which provides buoyancy and insulation benefits.
What is the best fabric for beachwear?
The best fabric for beachwear is Lycra, which is widely preferred and highly valued for its exceptional elasticity and flexibility, providing above-average durability. Lycra is also breathable, allowing for good light penetration while offering sun protection.
What material is Olympic swimsuit?
The Olympic swimsuit is made of high-technology swimwear, which is a scientifically advanced material used in competitive water sports like swimming and triathlon. Typically, these materials are a combination of spandex and nylon fabrics designed to minimize resistance against the water, reducing drag.
What swimsuit material is most chlorine resistant?
The most chlorine resistant swimsuit material is one that is 100% polyester and contains PBT. PBT swimwear fabrics are highly durable and have a long lifespan, making them nearly indestructible when exposed to chlorine.
Is Nylon or polyester better for chlorine?
Nylon and polyester are both used in swimwear, but when it comes to chlorine resistance, polyester is the superior choice. It is more durable, easier to maintain, and has excellent resistance to both UV light and chlorine.
What material is safe to swim in?
The best non-absorbent materials for swimming and ideal fabrics for proper swim attire are Lycra and Nylon. Swimming in other absorbent materials like cotton can lead to the breakdown of fibers in the water and potentially clog filters.
Does chlorine ruin spandex?
Chlorine can cause damage to spandex, as it can strip the vibrant colors, weaken the elasticity, and alter the original appearance of the fabric. The negative effects are primarily due to the chemical reaction between chlorine and the stretchy materials, such as spandex, commonly used in swimsuits. Exposure to hot tub chemicals or the sun's heat can exacerbate this damage.
Does Nylon fade in chlorine?
Nylon does fade in chlorine, although it is more resistant to chlorine compared to most other materials. Additionally, it dries quickly. However, even with its resistance, the color of nylon fabric will still fade after a year of regular use in swimming pools due to the combination of sunlight and chlorinated water.
How do I protect my swimsuit from chlorine damage?
To protect your swimsuit from chlorine damage, it is recommended to shower before entering the pool and ensure that your swimsuit gets fully soaked with fresh water. This will help minimize the absorption of chlorinated water and reduce potential damage.
Does chlorine ruin white bathing suits?
Chlorine is the most common culprit for ruining white bathing suits. It can be frustrating when swimsuits start to lose their color and become discolored. There are various factors that can contribute to this issue, but chlorine is typically the main cause. The chlorine present in pool water is likely responsible for the yellowing of white bathing suits.
What fabrics commonly used in exposure protection swimwear?
Commonly used fabrics in exposure protection swimwear include a combination of nylon and LYCRA® spandex, which are carefully blended to produce materials with a Ultraviolet Protection Factor (UPF) of 50. This UPF rating is the maximum achievable for any type of sun-protective fabric.
How do I identify swim fabric?
To identify swim fabric, you can look for materials such as polyester or nylon blended with spandex. This type of fabric is known for its stretchiness and ability to conform to the body, making it ideal for swimwear or dance attire.
Can you use any fabric for swimwear?
You cannot use any fabric for swimwear. Synthetic fabric blends with high Spandex (or Lycra or elastane) content usually have excellent recovery. The most commonly used fabric types for modern swimwear are Nylon Spandex (or Lycra or elastane), which is known for its durability, soft texture, and range of fabric sheens.
Can you wear polyester and spandex in the pool?
The question restated as a declarative sentence: "You can wear polyester and spandex in the pool."Rephrased answer: Yes, you can wear polyester and spandex in the pool as these materials are commonly used in swimwear. Polyester, like the Adidas shorts, is resistant to chlorine and does not absorb water, making it suitable for swimming.
What material makes you look slimmer?
The following statement answers the question: "What material makes you look slimmer?" Certain materials such as cotton, denim, silk, or wool gabardine are generally more slimming as they do not add extra volume. On the other hand, wide wale corduroy, crushed velvet, leather, suede, mohair, angora, taffeta, boucle, and flannel tend to be bulkier in appearance.
What is the difference between nylon and polyester swimsuits?
The difference between nylon and polyester swimsuits is that nylon has a higher water absorption rate compared to polyester, resulting in a slower drying time. Despite this, nylon offers better stretchability, making it a great choice for water sports. In terms of appearance, polyester has a matte finish while nylon has a shiny finish. Both fabrics are soft, long-lasting, and easy to maintain.
What is better to wear nylon or polyester?
Nylon and polyester have their own advantages, but when it comes to comparing the two, nylon emerges as the stronger and more flexible option. This means that clothing made from nylon is likely to have a longer lifespan. However, it is worth noting that nylon does have a slight drawback in terms of abrasion resistance, as it is more prone to pilling compared to polyester.
Is 100% polyester good for swimwear?
The rephrased answer: 100% polyester is a suitable choice for swimwear as it offers excellent resistance to natural elements. It can withstand exposure to chlorine and is not easily affected by the sun, making it ideal for both indoor and outdoor swimmers. Additionally, polyester is highly durable and requires minimal maintenance, which contributes to its widespread popularity.
Is nylon or polyester more breathable?
Nylon and polyester have different levels of breathability. While nylon is breathable enough for use in athletic and protective clothing garments, polyester is generally considered to be more breathable due to its moisture-wicking and quick-drying properties.
Is nylon or polyester more chlorine resistant?
Nylon and polyester have different characteristics when it comes to chlorine resistance. Polyester is known for being highly durable and resistant to chlorine, although it may feel stiff and heavy. On the other hand, nylon is softer and lighter than polyester, but it can be more susceptible to pilling and snagging. Additionally, spandex is extremely elastic and flexible, but it tends to lose its shape faster compared to polyester or nylon.
Is polyester better than cotton?
Polyester is more durable than cotton, but cotton is considered to be more skin-friendly. Both fabrics have their own set of advantages and disadvantages.
What are the disadvantages of nylon polyester?
The disadvantages of nylon polyester include its tendency to easily melt due to its fire-resistant properties. Additionally, nylon is hygroscopic, meaning it readily absorbs water from the air, leading to swelling and rapid deterioration when wet. It is important to note that there are various components, including sunlight, that should not be exposed to nylon fasteners.
Is 100% nylon waterproof?
The statement "100% nylon is waterproof" is incorrect. Nylon is commonly used in wet and cold weather clothing such as jackets, tracksuits, and hiking gear, leading to the assumption that it is waterproof. However, nylon is not waterproof and can actually absorb water, potentially allowing it to come into contact with the wearer.
Can polyester and Spandex be used for swimming?
Polyester and Spandex can indeed be used for swimming. If you are a casual swimmer, you may find that both polyester and spandex swimsuits are suitable options. Spandex, also known as Lycra, is a popular material for swimsuits due to its stretchiness and ability to provide a comfortable and well-fitting experience.
Is polyester a cheap fabric?
Polyester fabric is considered cheap, which is why it is widely used in the fast fashion industry.