11+ Best Wetsuits for Cold Water Swimming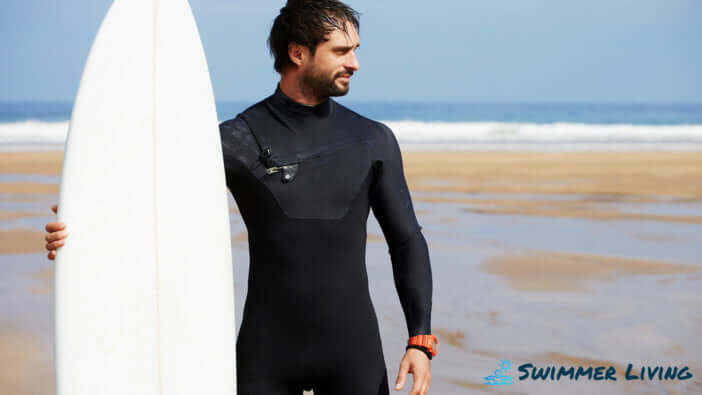 If you want to plunge into the ocean or dive in a cold lake, you'll need a wetsuit for comfort and warmth. Unfortunately, finding the appropriate wetsuit isn't as easy.
Do you desire a lightweight, quick-drying suit? Or perhaps you want a sturdy wetsuit that keeps you dry and warm for hours? This article will discuss the best wetsuits for cold water swimming and what to look for when selecting one.
Swimming in chilly water can be an exciting way to stay fit. It's a great way to enhance cardiovascular endurance but might also present risks. A cold-water swim without the right wetsuit could even lead to hypothermia.
Disclosure: As an Amazon Associate, this site earns from qualifying purchases. Thank you!
Best Wetsuits for Cold Water Swimming
Wetsuits are available in different sizes, materials, and styles, each appropriate for a unique swimming experience.
So, what is the best wetsuit for cold water? Here's a comprehensive review of the 11 best wetsuits for cold water swimming.
1. Blueseventy Thermal Reaction Wetsuit
The Blueseventy Thermal Reaction shares the same features as its counterpart, the Reaction, for tropical waters. However, this wetsuit is lined with a Zirconium Jersey to provide excellent protection in chilly temperatures. This innovative lining dries quickly and is lightweight, guaranteeing outstanding flexibility.
The shoulder part, constructed from a single sheet of neoprene, increases flexibility and reduces fatigue in this region. With the forearm inserts, you'll experience no resistance when swimming, regardless of the sequence of your arm movement.
Drawing on the Helix make, Blueseventy tightened the suit's core upper body region and created longer side panels. This design enhances your body's natural rotation, resulting in a more robust swimmer stroke and increased speed.
The Super Composite Skin (SCS) layer on the whole wetsuit enhances the hydrophobic qualities for increased speed and improved neoprene' durability. More so, this material is manufactured from limestone rather than petroleum, rendering it eco-friendly neoprene.
2. Scubapro Everflex 5/4mm Steamer Wetsuit
The EVERFLEX wetsuits have withstood the test of time by delivering superior thermal protection and comfort without sacrificing flexibility and durability. The suits are now more environmentally and diver-friendly, well-fitting, and comfy with solvent-free glue.
Scubapro uses the Pure Design Concept to enhance heat retention and comfort on this wetsuit. This 5/4mm Steamer Wetsuit also features lesser seams to minimize water infiltration, and all other seams are bind-stitched to reduce flushing.
The wetsuit panels are redesigned to provide an improved fit, maximizing mobility. The ankle zippers and double seal closures make it easy to wear and remove.
The innovative BLUE Diamond Span thermal inner liner and material that easily drains increases protection against cold water. The suit's second lining also enhances stretch by 20%. Comfortable Glideskin covers around the neck, wrists, and ankles. The 7/5mm is a user-friendly, comfy, warm wetsuit with an easy-slide diagonal back zipper.
3. Osprey 5/4mm Hooded Wetsuit
The Osprey 5/4mm Hooded Wetsuit combines the superior features of a top-quality suit to provide surfers with a warm, comfortable, and durable suit while retaining its stretch. Perfect for divers seeking something with improved insulation and flexibility.
The Osprey 5/4mm is an all-purpose winter wetsuit at a very low price. The thermal fleece inside is meant to wick moisture away from the skin, keeping you warm for a long period.
This lightweight, stretchy, nylon-lined fabric is gentle to the touch and cozy against the skin.
Surfers can swim in cold water for longer and have a more pleasurable session each time. Supratex knee pads give additional protection, whereas anti-rub apertures and ergonomic paneling ensure a cozy fit.
This hooded wetsuit's blind-stitched and glued seams make it appropriate for cold water swimming. Besides enhancing maneuverability, these seams enhance the suit's durability and provide a dependable water seal for a more insulating and snug fit. Key features include a detachable hood, external key pocket, and chest zip entry for enhanced flexibility.
4. Zone3 Azure Wetsuit
The unique Extreme Flex material of the Zone3 Azure Wetsuit provides exceptional flexibility across the arms and shoulders for a comfortable swim.
This feature allows you to move and utilize your full motion range while gliding effortlessly through the water, preserving energy and decreasing fatigue.
The Azure wetsuit comprises 70% SpeedFlo and 30% Smoothskin neoprenes. The remarkable SpeedFlo neoprene reduces water resistance and boosts the diver's swimming speed. Together with Smoothskin neoprene, the suit is as resilient as it's efficient.
Zone Azure features glue-bonded, fully-stitched seams and a low neckline, ensuring you can keep warm even when open-water diving. Various sizes are available, ensuring you'll find one that's well-fit for your body size.
Moreover, the Azure wetsuit is ideal for anybody who'd love to compete. Zone 3's signature characteristics have been integrated into the suit's design to facilitate a swift and comfortable swim.
5. Gill Pursuit 4/3mm Wetsuit
The Gill Pursuit 4/3mm Wetsuit is built with optimum efficiency in mind. It features thermal protection technology and a back zip with a long zip puller, allowing easy wear. This wetsuit is ideal for various watersports, including kayaking and paddleboarding.
This wetsuit has a blindstitched construction with taping on the inside to retain warmth and protect from cold water. The 4/3mm zoned neoprene build offers complete protection, flexibility, and coverage in and outside water.
It also incorporates a back panel and a mesh skin chest with heated fabric inside to maintain your upper body and core warm, even in cold temperatures.
A double-lined Glideskin collar prevents cold water splash while making the wetsuit comfy for all-day wear. Taping and Di-Guard neoprene knees provide further wear resistance.
6. Cressi Comfort 7mm Monopiece Wetsuit
Cressi Comfort is the ideal wetsuit for swimmers who place a premium on comfort and ease of fit. The exterior coating features 100% ultra-elastic Ultraspan®, quick-drying and hydrodynamic.
The X-Plush inside coating is quick-drying and slick and helps the wetsuit to better conform to the wearer.
This wetsuit is extremely comfortable and warm and doesn't restrict the suppleness of the outer fabric and neoprene. It enhances the thermal qualities of the wetsuit, making it a good choice if you're planning a cold-water swim.
The fabric's weave and fiber type limit water circulation and boost the neoprene's ability to retain heat. This blend of textiles with comparable elasticity enables them to be coupled with compact and dense neoprene to decrease the suit's buoyancy and compression.
Glide Skin and Smooth double inner sleeves (to keep them from matting while not being used) and zippers provide waterproofing at the ankles and wrists.
The degree of finish is very holistic, without undue intricacy, and at a reasonable price.
7. ORCA TRN Core Openwater Wetsuit
The ORCA TRN wetsuit is the ideal wetsuit for beginning open-water swimmers. This wetsuit is exceptionally flexible and neutrally buoyant to ensure you feel safe during every stroke.
Yamamoto 39 neoprene is paired with a 2mm Infinity Skin high-end liner to increase flexibility during all elements of the swim stroke.
You won't feel any hindrance on your arms and shoulders during your swims. This material requires 35-45% less force to flex than standard neoprene.
The Yamamoto 39 system is also incorporated into the torso to provide adequate thermal insulation when swimming in cold waters. Its 3 mm thickness provides 77% greater protection compared to bare-chest swimming.
The Ultimate Seal Collar neck lining lowers friction and the chance of chafing. The material is pleasant to feel and more comfortable for skin contact.
Bamboo fibers enhance the thermal properties of this wetsuit and reduce scent accumulation for a clean, fresh feel. The YKK zipper is user-friendly, and its flexible construction facilitates quick transitions.
8. TYR Hurricane Cat 1 Wetsuit
The TYR Hurricane Cat 1 Wetsuit minimizes drag and increases speed. As such, it is the best choice for novice and prospective triathletes seeking to enhance their performance in the water.
The TRY Hurricane is dependable and abrasion-resistant. The cutting-edge slick skin neoprene retains great heat, making this an ideal wetsuit for cold water swimming.
As one of the most durable materials, the slick skin neoprene is also built to offer a comfy fit.
Unlike the traditional seam design, the TRY Hurricane incorporates a speed wrap paneling in the core, chest, and legs to securely hug and keep the swimmer in.
The ankle cuff taper also tapers the swimmer's leg for easy transitioning from the wetsuit.
If you're a competitive swimmer, the 360°core stabilization system carefully targets muscle regions to lift you. You'll enjoy steady body posture and core strength for your swim.
This wetsuit protects against sunlight, so you shouldn't worry about overheating outdoors.
9. Synergy Adrenaline Full Sleeve Wetsuit
The Synergy Adrenaline wetsuit is the ultimate choice for any competitive swimmer. It offers essential buoyancy yet feels like swimming in a sleeveless suit. The anatomical design provides the necessary and keeps you comfy at peak performance.
The Adrenaline follows the same feature-rich specifications as the top-tier Synergy Hybrid, with one key difference. This wetsuit features silicone-coated SyPrene (SCS) for its primary HiFlex panel in the upper legs and torso.
Therefore, you are guaranteed optimal functionality and flexibility in this wetsuit.
YKK's premium anti-corrode inside wetsuit zippers are designed to minimize swimming resistance. Synergy Adrenaline also has an incredibly soft, low-cut neck with smooth skin on either side.
This ensures the wetsuit is comfortable for the skin and will feel like there's nothing around the neck.
The neoprene material of this wetsuit guarantees lasting service. At 5mm thickness, you'll also enjoy maximum buoyancy and insulation, which ensures you float and easily glide through the waters without much effort.
10. Akona 7mm Quantum Full Stretch Wetsuit
The Akona 7mm Quantum is the ideal wetsuit for winter diving and surfing. The wetsuit's 7mm thickness will provide adequate insulation to be cozy, even in extremely cold waters.
Even though the wetsuit is quite thick to provide optimal warmth, the wetsuit doesn't sacrifice flexibility. Akona utilizes neoprene woven with nylon to make the 3× more flexible than other wetsuit fabrics.
The material also feels comfortable on the skin and allows a wide range of motion for your shoulders, arms, and legs.
The knee pads constructed from Super Flex Armortex are also robust and comfortable, protecting from inadvertent impacts on jagged rocks. The flush-cut seals and GlideSkin also make the wetsuit exceptionally impermeable.
The unique YKK brass zipper uses dual rubber strips to seal the zipper opening when closed, resulting in a water-resistant seal. Besides, this wetsuit is easy to wear and take off thanks to the pull loop at the zipper's base.
11. O'Neill Hyperfreak 5/4mm Hooded Wetsuit
Founded in the 1950s, O'Neil is among the earliest successful surf companies. Although the brand primarily makes bikinis, board shorts, and T-shirts, its founder, Jack O'Neil, is widely-recognized for coming up with the modern wetsuit.
Initially launched in 2015, the O'Neill Hyperfreak wetsuits come in numerous styles and thicknesses, ranging from 2mm summer suits to 5/4mm hooded suits. The O'Neill Hyperfreak 5/4mm is the perfect wetsuit for swimming in cold waters.
This suit's 5/4mm thickness and hooded design guarantee proper insulation, even during the chilliest water temperatures.
Unlike most thick wetsuits that compromise on flexibility and stretch, the suit's innovative TechnoButter 3 technology also ensures you enjoy maximum mobility.
This wetsuit is extraordinarily light. The TechnoButter technology and neoprene material make it 20% lighter than previous models. Therefore, you can swim faster and easily through water without any hindrance.
The lack of zippers enhances your freedom of transition, whether swimming or paddling. This zipper-free design is also user-friendly, as it's easy to take off or wear the suit.
FAQs
Here are some of the commonly asked questions about the best wetsuit for cold water:
What's the best wetsuit for surfing?
The Blueseventy Thermal Reaction remains our top suggestion for cold water swimming. The wetsuit's fit is unparalleled. The super-flexible Yamamoto neoprene in the right areas ensures most body types enjoy a comfortable fit. Blueseventy Thermal Reaction's inner lining of Zirconium Jersey also offers maximum insulation.
How do I choose a wetsuit for surfing?
Numerous factors come into play when selecting what wetsuit is appropriate for you. For instance, if you're a casual swimmer, you might not go for premium features compared to a swimmer who's eyeing a triathlon.
You should also consider the type of zipper used, especially if you want a wetsuit for open-water swimming. Taped and sealed zippers are best for cold waters.
Moreover, always check the suit's material for durability reasons. While most wetsuits are built in rubbery or neoprene material, note that various types of neoprene are available. If you're an athlete or performer, Yamamoto offers the best quality.
More FAQs
How do I choose a wetsuit for cold water?
To choose a wetsuit for cold water, it is crucial to consider the thickness of the suit's neoprene. The more neoprene it has, the better insulation it provides, resulting in increased warmth. Additionally, it is essential to conduct thorough research on the water temperature in the area where you plan to primarily use your wetsuit, taking into account seasonal variations and swells.
How much should you pay for a wetsuit?
You should pay different prices for wetsuits depending on their type and quality. On the lower end, a shorty wetsuit or spring suit with shorter arm and leg coverings can cost around $50, while a full-body wetsuit or full wetsuit may be priced at about $75. For basic, entry-level suits suitable for summer surfing, the price range can go up to $130.
What is the difference between 4 3 and 3 2 wetsuits?
The difference between a 4/3 and a 3/2 wetsuit is quite straightforward: the thicker the wetsuit, the more warmth it provides. A 5/4/3 wetsuit offers significantly more insulation compared to a 3/2 wetsuit. Additionally, the thickness of a wetsuit also affects its durability. Thicker suits, with their increased material, are less prone to tearing all the way through the neoprene.
Does water still feel cold in a wetsuit?
Water in a wetsuit does not feel cold because it warms up to the temperature of your skin, which is around 91F (32.7C). Despite common belief, the layer of water inside the wetsuit does not actually warm you. However, since it matches the temperature of your skin, it does not feel cold or draw heat away from your body.
How thick should a winter wetsuit be?
A winter wetsuit should typically have a thickness of 5/4 mm, also known as 5.4 or 5 mm. This particular thickness offers slightly more warmth compared to a 5/3 mm wetsuit, primarily due to the additional millimeter thickness in the arms. The primary body panels and upper legs are 5 mm thick, while the arms, shoulders, and back of the lower legs are constructed with 4 mm panels.
What do you wear under a wetsuit?
The question of what to wear under a wetsuit can be answered in various ways. Some individuals choose to wear nothing at all, while others opt for a thin garment such as a rash vest, compression shorts, or a bikini for added comfort. Alternatively, for those seeking additional warmth, a thermal hooded rash vest can be worn.
How long can I swim in cold water with a wetsuit?
The rephrased answer would be: You can swim in cold water with a wetsuit for well under one hour, but it is not recommended to do so without a wetsuit. In temperatures of 8C, even the most experienced swimmers should limit their time in the water to a maximum of 30 minutes.
Can you swim in winter with a wetsuit?
You can swim in winter with a wetsuit if the water temperature is below 70 degrees. If the water temperature drops below 65 degrees, it is recommended to wear a wetsuit to prevent any adverse reactions to the cold.
How thick should my wetsuit be?
The wetsuit thickness should be determined based on the water temperature. For water temperatures between 65°F and 75°F, a wetsuit thickness of 0.5mm to 2mm is recommended, along with a jacket or spring suit. If the water temperature is between 60°F and 65°F, a 3/2mm full suit is suitable. For temperatures between 55°F and 60°F, a 4/3mm full suit is recommended, and booties can be added as an option. In water temperatures between 50°F and 55°F, a 5/4mm full hooded suit is advised, along with booties and gloves or mittens.
Can you swim in a 5mm wetsuit?
Yes, you can swim in a 5mm wetsuit. If you are considering purchasing a suit for Wild Swimming with Large Outdoors, take into account the following factors. A surfing style wetsuit, ranging from 3-5mm, will be suitable for swimming.
What is the coldest water you can swim in with a wetsuit?
The coldest water you can swim in with a wetsuit is within the range of 50 to 78 degrees, making it the ideal temperature range for using a wetsuit.
Can you survive in cold water with a wetsuit?
You can survive in cold water with a wetsuit, but if the water temperature is 50F (10C), a 2mm wetsuit will only offer limited protection against cold shock and won't delay incapacitation for an extended period of time. It is important to ensure that the wetsuit you wear provides adequate protection for the specific conditions in which you are paddling.
How cold is too cold to swim in a lake?
The question transformed into a statement: "There is a certain temperature at which it is too cold to swim in a lake."Rewritten answer: It is generally recommended for the average swimmer to avoid swimming in water below 70 degrees Fahrenheit. However, it is important to note that even at this temperature, the water can still be quite chilly. It is advisable to wait for warmer water to have a more enjoyable and safer swimming experience.
Can you dive in freezing water with a wetsuit?
You can dive in freezing water with a wetsuit, but it is more suitable for mildly cold to warm water diving conditions. For very cold water conditions, a drysuit is necessary as it prevents heat loss by not allowing water to conduct heat away from the body. If the water temperature is below 15 degrees centigrade, a drysuit is recommended to ensure warmth during the dive.
Is 62 degree water too cold to swim in?
The water temperature of 62 degrees may be too cold to swim in as it becomes increasingly challenging to control your breathing when the water temperature ranges between 60 and 70 degrees. It is particularly dangerous when the water temperature falls between 50 and 60 degrees, as you lose the ability to control your breathing in this range, as stated by the National Center for Cold Water Safety.
What kind of wetsuit keeps you warm?
A wetsuit that keeps you warm is typically made of neoprene, which effectively traps a thin layer of warm water between your body and the suit, maintaining your body temperature and providing insulation in cold weather conditions.
Should you wear any clothes under a wetsuit to stay warm?
You should wear either nothing at all, a thin garment like a rash vest, compression shorts, or a bikini for comfort, or for extra warmth, a thermal hooded rash vest when wearing a wetsuit to stay warm.
What is the warmest wetsuit thickness?
The warmest wetsuit thickness depends on the water temperature. For water temperatures above 75°F, no wetsuit is necessary. However, you can opt for a rashguard for sun and skin protection. In water temperatures ranging from 65°F to 75°F, wetsuits with a thickness of 0.5mm to 2mm, such as a jacket or spring suit, are suitable. For water temperatures between 60°F and 65°F, a 3/2mm full suit is recommended. In water temperatures ranging from 55°F to 60°F, a 4/3mm full suit is the warmest option. If desired, booties can also be worn for additional warmth.
Do you still feel cold in a wetsuit?
The water in a wetsuit does not warm you up, contrary to popular belief. However, as it reaches the same temperature as your skin, which is about 91F (32.7C), it doesn't feel cold or draw heat away from your body.
How do you increase the warmth of a wetsuit?
To increase the warmth of a wetsuit, you can enhance its thermal insulation by wearing wetsuit vests. These vests effectively protect your vital areas and prevent heat loss. Additionally, they minimize the impact of water and wind chill. To further enhance warmth, you can also consider wearing a wetsuit hood, gloves, and boots.
Do wetsuits keep you warmer in cold water?
Wetsuits do indeed keep you warmer in cold water. They are commonly worn by swimmers, divers, or surfers who engage in activities in cold water. The primary function of wetsuits is to insulate the individuals wearing them and assist in retaining their body heat. By doing so, wetsuits help prevent the occurrence of hypothermia, which is characterized by dangerously low body temperature. These suits are typically constructed using neoprene, a type of rubber material.
Is a wetsuit better than a drysuit for cold water?
A wetsuit provides better thermal protection from cold water compared to a drysuit as it utilizes a thin layer of water and the material of the suit to insulate the body's natural heat, while drysuits rely on air and multiple under-layers to retain heat.
What is warmer a wetsuit or drysuit?
A drysuit is warmer than a wetsuit in extremely cold conditions when the temperature restricts normal wetsuit movements. For extreme winter standup paddleboarding conditions, a drysuit is a great choice because it allows you to add extra layers of warmth underneath.
How long can you stay in cold water with a wetsuit?
The question is: How long can you stay in cold water with a wetsuit?Rephrased answer: With a wetsuit, you can expect to survive in water temperatures of 32.5–40° (0.3–4.4°) for approximately 30 to 90 minutes, in temperatures of 40–50° (3.3–10°) for about 1 to 3 hours, in temperatures of 50–60° (10–15.6°) for approximately 1 to 6 hours, and in temperatures of 60–70° (15.6–21.1°) for around 2 to 40 hours.
Is it easier to put on a dry or wet wetsuit?
The statement is: It is easier to put on a wet wetsuit than a dry wetsuit.Rephrased answer: Putting on a wet wetsuit when you are wet is significantly easier compared to attempting to put on a dry wetsuit when you are dry. The same principle applies vice versa. However, if you are feeling adventurous and want to challenge yourself, you are more than welcome to try putting on a wet or damp wetsuit when you are dry, or a dry wetsuit when you are wet.
At what temperature do I need a dry suit?
The temperature at which a dry suit is necessary is typically below 15 °C (60 °F). A dry suit is also used for prolonged periods in water above 15 °C (60 °F) to avoid discomfort and reduce the risk of hypothermia compared to using a wet suit.
What is the difference between a wetsuit and a semi dry suit?
The difference between a wetsuit and a semi-dry suit lies in the presence of seals at the wrists and ankles in a semi-dry suit, which are specifically designed to minimize water penetration. Unlike a wetsuit, where water can freely flow through openings and take away body heat.
Do you need a wetsuit to swim in cold water?
A wetsuit is strongly encouraged when swimming in cold water with temperatures ranging from 50 to 65 degrees, and in some races, their use may be mandatory. However, when the water temperature is between 65 and 78 degrees, it is generally up to the athlete to decide whether or not to wear a wetsuit.
How much is a good wetsuit?
A good wetsuit can vary in price. Low-end wetsuits, such as shorty wetsuits or spring suits with shorter arm and leg coverings, can cost around $50. On the other hand, a low-end full-body wetsuit or full wetsuit typically costs about $75. For summer surfing, basic entry-level suits can range up to $130 in value.
Will a loose wetsuit keep you warm?
A loose wetsuit will not keep you warm because if it is not tight enough, more water will flow through it, causing your body to lose more heat and requiring more effort to stay warm. It is crucial to have a properly fitting wetsuit that minimizes water penetration.