9+ French Swimwear Brands for Beach & Pool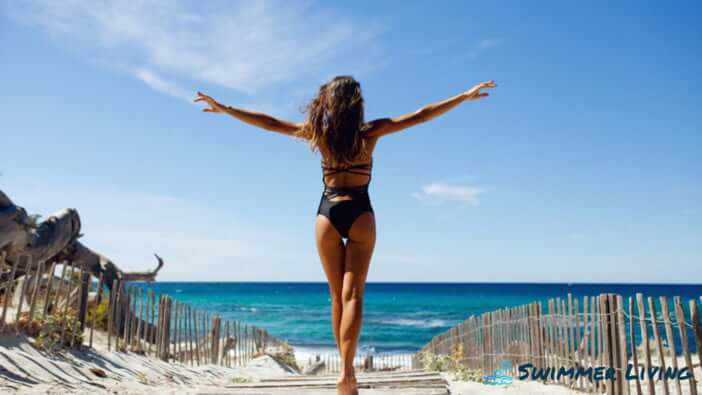 As the weather heats up and summer begins, it's time to start thinking about swimwear. If you're looking for something that is both stylish and high-quality, then you should check out French beachwear brands.
These brands are renowned for their use of high-quality materials and chic designs. Whether you're looking for a classic one-piece or a trendy bikini, you can find something that suits your style. And, with prices ranging from affordable to luxurious, there's something to suit every budget.
So, if you want to update your swimwear wardrobe this summer, try out any of the French swimwear brands below.
Disclosure: As an Amazon Associate, this site earns from qualifying purchases. Thank you!
1. Pain du Sucre
Summertime is upon us, so it's time to break out of the swimwear! Pain du Sucre French swimwear is the perfect choice for those who want to add a touch of luxury to their beachwear. Pain du Sucre offers a wide range of designer swimsuits, bikinis, and cover-ups that are sure to turn heads.
The brand's signature style is defined by its bold prints and bright colors, perfect for making a statement on the sand. In addition to its eye-catching designs, Pain du Sucre is also known for its high-quality construction. Every piece is made from luxurious fabrics designed to withstand the rigors of sun and surf.
2. Nénés Paris
Nénés Paris is a French brand specializing in stylish and practical women's swimwear. The brand offers a range of items, including bikinis, one-pieces, cover-ups, and accessories. Nénés Paris is committed to providing high-quality products for beach or poolside occasions.
Whether you're looking for a classic black bikini or a fun and vibrant print, Nénés Paris has something to suit your taste. So why not take a dip into the world of Nénés Paris today? You're sure to fall in love with their stylish swimwear.
3. Canopea
Canopea is a French swimwear brand known for its stylish and flattering designs. The brand offers various styles, from classic bikini sets to chic one-piece swimsuits.
Canopea's swimsuits are made from high-quality fabrics that hug the body and accentuate curves. The brand aims to make women feel confident and beautiful when wearing swimsuits.
If lounging by the pool or enjoying a beach, Canopea's swimwear will help you look and feel your best.
4. ERES
ERES French swimwear is synonymous with chic sophistication. The luxurious fabrics and figure-flattering cuts are designed to make every woman look and feel her best. Whether Poolside or beachside, ERES has the perfect swimsuit for you.
The Maillots de Bain collection features classic one-piece swimsuits and tankinis that are timeless and sexy. The Bandeau collection includes strapless bikinis and one-pieces that are perfect for sunbathing.
And the Sexy Plage collection features daring cuts and sexy silhouettes that will turn heads wherever you go. With so many chic styles to choose from, it's easy to see why ERES is the ultimate destination for French swimwear.
5. Leslie Amon
Leslie Amon is a swimwear brand that caters to women of all shapes and sizes. It offers many styles, from bikinis and tankinis to one-piece swimsuits and cover-ups.
Leslie Amon also provides a free personal styling service to help customers find the perfect swimsuit for their body type.
The company's mission is to help every woman feel confident and beautiful in her skin. Leslie Amon's fashionable and flattering swimwear is designed to do just that. If you're looking for a casual beach look or something more glam for a pool party, Leslie Amon has you covered.
6. Anja Paris
Since the early 2000s, French label Anja Paris has been making waves in the world of swimwear. The brand is known for its elegant and timeless designs, which are informed by a sense of effortless chic.
Anja Paris is also dedicated to using the highest quality fabrics and construction techniques, resulting in beautiful and lasting swimwear.
Are you looking for a classic one-piece or a playful bikini? Anja Paris has something to suit every taste. With an ever-growing following of loyal fans, it's clear that this French label is here to stay.
7. Poolday Paris
Launched in 2014, Poolday is a Paris-based swimwear brand quickly making a name for itself in the fashion world. With a focus on contemporary design and high-quality fabrics, Poolday creates stylish and practical swimsuits.
The brand offers a wide range of styles for both men and women, including everything from classic one-pieces to trendy bikinis. In addition to its swimwear line, Poolday also sells a range of accessories, such as beach towels and sunglasses.
With its combination of fashion-forward designs and quality construction, Poolday quickly becomes the go-to source for stylish swimwear.
8. Livystone
Founded in 2012 by Laurence Delauney, Livystone is a French swimwear brand known for its contemporary designs and high-quality fabrics. The brand offers various styles, from bikinis and one-pieces to cover-ups and beach accessories.
Livystone's mission is to provide women with beautiful, stylish swimwear that makes them feel confident and comfortable. The brand's collections are inspired by the latest fashion trends and classic French style.
Livystone's swimwear is designed to flatter all body types, and the brand offers a wide variety of sizes to accommodate different figure types.
In addition to its online store, Livystone has a brick-and-mortar boutique in Paris. The brand has been featured in numerous fashion magazines, including Vogue, Elle, and Harper's Bazaar.
9. Vilebrequin
Vilebrequin is a French swimwear brand founded in Saint-Tropez in 1971. The brand is best known for its brightly colored, patterned swim shorts, which are popular among celebrities and fashionistas. Vilebrequin's shorts are made from quick-dry fabric and feature a button fly and an elastic waistband.
The brand also offers a range of swimsuits, cover-ups, and accessories for both men and women. While Vilebrequin's prices are on the high end, fans of the brand argue that the quality and style of the clothing are worth the investment. Whether you're looking for a new pair of summer shorts or a chic swimsuit to hit the beach in, Vilebrequin is worth checking out.
FAQs about French Swimwear
Still not sure which swimsuit to get? We can help with that!
What swimwear can you wear in France?
It is considered acceptable to wear modest swimwear that covers the chest and buttocks. This means that bikinis and tankinis are fine, but thong swimwear is not.
Why can't you wear shorts in French swimming pools?
While France is known for its fashion, there are some strict rules regarding what can be worn in public swimming pools. In particular, shorts are not allowed.
The reason for this is twofold. First, swim shorts are often made from synthetic materials that can damage pool filters. Second, shorts can slip off easily, which can be a distraction for other swimmers.
While this may seem minor, it's important to remember that public swimming pools are places where people come to relax and exercise, and modesty is valued highly.
Do you have to wear a swimming cap in France?
While wearing a swimming cap in France is not legally required, most public pools will not allow entry to those not wearing one. 
There are a few exceptions to this rule, such as private pools and some outdoor pools, but for the most part, it is advisable to bring a swimming cap if you plan on taking a dip in France. This is because caps help keep the pool water clean by preventing hair from entering the water.
Final Thoughts
While we can't cover all the French swimwear brands out there, these nine should give you a good starting point for finding the right swimsuit or bikini for your next vacation.
So whether you're looking for a high-end designer suit or something more affordable, we've got you covered. Bon shopping!
More FAQs
What swimwear to wear in France?
The appropriate swimwear to wear in France is short swimming trunks. The French prefer short trunks over long ones as they are considered more hygienic and environmentally friendly. Tight-fitting trunks are also preferred because loose trunks tend to retain more water, which is not ideal for the environment.
Are expensive swimsuits worth it?
Expensive swimsuits may or may not be worth it depending on the frequency of use and the individual's susceptibility to sunburns. If the swimsuit will only be worn occasionally and for one season, it may not be worth investing a lot of money. However, if the individual plans to wear the swimsuit frequently or is prone to sunburns, it might make sense to consider more expensive brands that offer SPF protection.
How do you know if a swimsuit is good quality?
To determine if a swimsuit is of good quality, you can assess its fabric by feeling its thickness and softness. Conduct a stretch test by pulling the fabric in various directions and ensuring it bounces back well. Additionally, examine the lining as lower quality swimsuits may lack full or partial lining. Opting for high-quality swimsuits with complete lining offers improved support and longevity.
What is a full swimsuit called?
A full swimsuit is commonly referred to as a maillot or tank suit, resembling a sleeveless leotard or bodysuit. Although the term "maillot" is not widely used anymore, it is still recognized as the most common type of one-piece suit. Other variations of one-piece swimsuits include halterneck styles, plunge front swimsuits, wrap-round (surplice) styles, and bandeau styles.
What is a trikini swimsuit?
A trikini swimsuit is a three-piece beachwear garment, derived from the word bikini, which was originally named after Bikini Atoll. The term "tri-" in trikini signifies "three," replacing the "bi-" in bikini, which represents "two."