8+ Skim Board Brands That Glide Every Time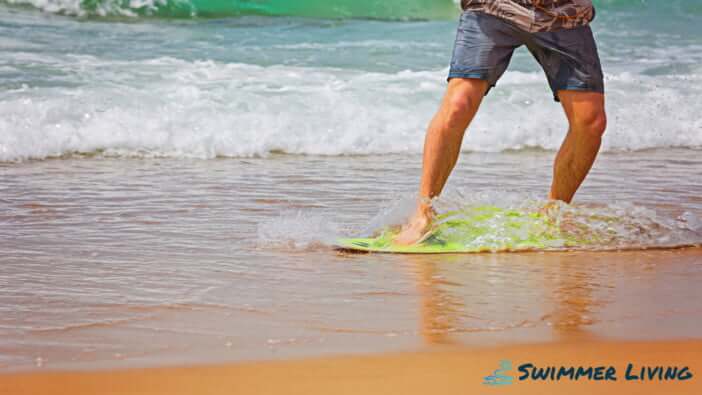 Looking for the best skimboard brands so you can shred the next time you head to the beach? We don't blame you!
Instead of choosing an unreliable skim board brand that is flimsy and unsafe to use, make sure you research the top brands and products to give you the best experience while hitting the sand and the blue waves. 
Let's discuss finding the right skimboard for your personal preferences and skill level, the best materials on the market, and the most reputable brands that can guarantee you a fun and exciting time in the water! 
Disclosure: As an Amazon Associate, this site earns from qualifying purchases. Thank you!
Best Skimboard Brands
Let's check out the best skimboard brands so you can hit the water with confidence!
Zap Skimboards
Zap offers high-quality skimboards suitable for beginners and advanced riders who want to take advantage of a long-standing company with a favorable reputation.
Zap skimboards are one of the most widely recognized names in the industry due to their wide range of skimboards, board lineup, and professional riders who use their boards.
Victoria Skimboards
Victoria Skimboards offers skimboards and skimboard gear for athletes of all skill levels. This company offers different styles, shapes, and board types suitable for those who want to ride waves or ride more on the flatland. 
Victoria Skimboards offers the Woody, Foamie, and Glide for beginners, all of which differ in shape and material.
You can also choose your specific board type by selecting your unique shape. The various shapes include the following:
The Classic
The Lift
The Weber shape
The Fish
You can choose from professional models in the Victoria Skimboards lineup, include Tex Haines, Paddy Mack, Johnny Salta, Johnny Weber, Amber Torrealba, and Teddy Vlasis. 
DB Skimboards
DB Skimboards is a reputable company in the industry that was founded in Dash Point, Washington.
With multiple products that are hand-crafted with an abundance of care, it is no wonder that DB Skimboards is one of the most widely used companies worldwide. 
All the skimboards are hand-crafted in Washington state using 3D printers, CNC technology, and personalized designs that enhance the quality of the board.
DB Skimboards aims to use only the best materials, reduce waste, and maintain a high level of customer service.
Customers can build a custom design by selecting the flex, colors, artwork, foam, and board type. You can also browse the online gallery for inspiration. 
Wavestorm 
Wavestorm is one of the leaders in skimboard creation due to its lightweight, hand-crafted, and high-tech designs.
Wavestorm offers Storm Blade, True Wave, and other products suitable for both beginners and advanced users. 
South Bay Board Co.
South Bay Board Company is a family-owned board company located in Los Angeles, California. It is known for its customer service, large customer base, and high-quality skimboards with only the best materials. This business focuses on creating premium boards that do not break the bank. 
South Bay Board Co. offers a wide range of skimboards for various skill levels, personal preferences, and physical sizes.
Some of the most common boards produced by South Bay Board Co. include the 45″ Skipper Beginner Skimboard, 36″ Skipper Skimboard, 52″ Big Cat Pro Skimboard, 52″ Fat Fish Pro Skimboard, and the 48″ Marauder Pro Skimboard.
Exile Skimboards
Another reputable and trusted company in the skimboarding industry is Exile Skimboards, a surf company in San Clemente, California.
The company focuses on creating strong, durable, long-lasting, reliable, and performance-oriented boards that are fantastic for intermediate and advanced borders. 
Exile even offers sponsorships for advanced riders who want to work with current team riders, become professionals, and use Exile products. 
Some of the most common skimboards from Exile include the following:
Pro Purse Board
Custom Barracuda Double Carbon Fiber Epoxy Skimboard
Large EX1 Softy E-Glass Epoxy Soft Skimboard
Custom Ryan Deese Pro Model Skim Style Wakesurf board
Wave Zone Skimboards
Wave Zone Skimboards offer lightweight, fast, durable, and strong boards that are trusted in the United States.
This company is one of the country's most reliable board manufacturers that churns out interesting designs, strong boards, and a wide range of products suitable for beginner and advanced riders alike. 
Wave Zone Skimboards is a local shop run by Jeff Shinham. Wave Zone has remained a constant in the industry for many years, featuring a full-service surf shop and board builder section that helps produce high-quality skimboards over multiple years.
Some of the most common skimboards offered by Wave Zone include the Squirt Complete #1 for beginners, Diamond Complete for beginners, Edge Complete for intermediate riders, Surge Complete for advanced users, Dart Complete for intermediates or experienced users, and the Glide Complete for experienced users.
Driftsun Skimboards 
Lastly, we have Driftsun Skimboards, a reliable and trustworthy skimboard company that offers lightweight, durable, and versatile skimboards for people of all skill levels. 
Some of the most common boards offered by Driftsun include the Fiberglas performance skiboard with EVA traction pad and the Wood Skimboard with XPE Traction pad.
Driftsun is a Northern Californian company created in 2014 to help those with big dreams accomplish their goals. The Driftsun Team is dedicated to helping beginners, intermediates, and advanced riders succeed in their passion for shredding the waves and having fun! 
How Do I Choose the Right Skimboard?
You can use a few criteria to find the right skimboard. 
Size and Shape
First, you need to look into the size and shape of the board. Skimboards are usually between 45″ and 60″ in height and 18″ and 23″ in width, depending on the person's skill level, personal preferences, and physical stature.
The thickness of the board influences the responsiveness and control of the board. The board's rocker influences the wind's effect on the board and stability. 
Price
Second, you must consider the price to find the best skimboard brands. A beginner skimboard is usually between $50 and $100, whereas a high-end board could be as much as $300. 
Brand
Lastly, looking into the skimboard brands is helpful to see which company is reliable and trusted in the industry.
Some of the most common skimboard brands include Victoria Skimboards, Zap Skimboards, Grape Skimboards, Wavestorm, DB Skimboards, and many others.
FAQs about Skim Board Brands
Are you wanting to hit the beach but still have a few questions about the best skimboard brands? Here are common questions about skimboards.
What is the best thickness for a skimboard?
The best thickness for a skimboard depends on the user's specific preferences and skill level. The thickness directly influences the stability and control of the board. 
Experts may want a thinner board that can provide more control on the waves, whereas a beginner may opt for a thicker board for more stability.
What are Zap Skimboards made of?
Zap Skimboards makes various boards, such as the Laer, Wedge, Fish, Pro, Ace, and M5. They make their skimboards out of high-quality materials, like composite construction with a TuffCoat Gloss and polyester resin. 
What are Victoria Skimboards made of?
Most Victoria Skimboards are made of hardwood core material, polyester resin, and a gloss hand-painted finish.
More FAQs
What skimboards do pros use?
Professionals often use carbon fiber boards, which are high-performance skimboards. Wave riders commonly opt for foam models, as they offer greater floatation. On the other hand, inland skimmers typically prefer heavier and more durable wood planks.
What skimboard do you need to ride waves?
The skimboard needed to ride waves depends on the rider's skill level and preferences. Intermediate and advanced riders, as well as those interested in performing tricks with waves, typically opt for foam boards. On the other hand, wooden boards are better suited for flatland (including inland) skimming.
Are skimboards supposed to float?
Skimboards are designed to have a balance between buoyancy and weight, allowing them to float on the water while also preventing them from being carried away by the wind. Additionally, they need to be fast enough to enable skimboarders to reach their intended wave without missing it entirely.
Are Circle One skimboards good?
Circle One Skimboards are indeed good as they are meticulously constructed and hand-finished, resulting in a board that offers a remarkable balance between strength and weight. This ensures that the board is not only durable but also fast. Additionally, these skimboards are not limited to just skimboarding; they can also provide great enjoyment for wakeboarding, wakeskating, and even kitesurfing. With their fluid and skate-like feel, Circle One Skimboards offer a versatile and exhilarating experience.
Can you surf on a skimboard?
You can surf on a skimboard by paddling into a wave without fins. This allows you to easily beat many sections due to the minimal drag and flatness of the board. Once you catch the wave, generating speed and flowing past multiple sections becomes effortless. However, it is important to note that making a steep drop on a finless skimboard is not really possible.
Do fiberglass Skimboards float?
Fiberglass skimboards do float because they are designed to be lightweight and have excellent buoyancy, allowing them to stay on the water's surface for extended rides during flatland skimming.
Where are Zap Skimboards made?
Zap Skimboards are made in Venice, Florida, USA, where they operate in a factory and warehouse space spanning over 37,000 square feet.
Where are slapfish skimboards made?
Slapfish skimboards are made in the USA, with a focus on affordability, durability, and optimality for all potential customers.
What are exile skim boards made from?
Exile skim boards are made from a combination of E-Glass and polyester resin, using a construction process similar to our Double Carbon Fiber Epoxy boards. This meticulous craftsmanship produces a lighter and stronger board compared to the EX0 and EX1 models.
Do foam skimboards float?
Foam skimboards do float because their flexible and lightweight material allows for easy handling and use, making them a preferred choice for avid skimboarders, despite their higher cost.
Is the Zap wedge good?
The Zap wedge is good for both beginners and maturing young skimmers. It offers three different sizes to cater to various rider profiles and is constructed with our Composilite™ technology, ensuring exceptional performance and durability that surpasses other boards in its class from different manufacturers.
Are epoxy skimboards good?
Epoxy skimboards are excellent due to their use of Epoxy Resin Laminate. This coating effectively repels water and withstands the regular wear and tear associated with frequent use.
Do wood skimboards float?
Wood skimboards do not float as well as other materials due to their low buoyancy. As a result, they tend to sink faster, making them more suitable for use in shallow waters.
What are Victoria skimboards made of?
Victoria skimboards are made of a high density foam core, industry standard E-Glass, and premium Vinylester resin, making the Poly stand out as one of the fastest and most responsive boards available on the market.
Who owns exile skimboards?
Exile Skimboards is owned by Aaron Peluso and Andy Chiavetta, the company founders who had been meticulously preparing for a game-changing entry into the skimboarding industry. Andy Chiavetta had been crafting boards for his inner circle and a small group of customers since the 1990s.
How do I choose the right size skimboard?
The right size skimboard can be chosen based on the rider's experience level and intended use. For intermediate to experienced wave riders, it is recommended that the nose of the skimboard reaches anywhere from the chest to chin. However, if you are a beginner and looking to practice sand sliding, a much smaller board can be used.
Where is exile skimboards Australia?
Exile Skimboards Australia is located at Scarborough Beach, Perth WA. The shop is situated at Scarborough Beach, Perth WA and serves as a skimboard shop in Australia. We offer a wide range of skimboards, wake skims, and surf skims, delivering them to various locations across Australia.