11+ Tips for What to Wear Under a Wetsuit in Cold Water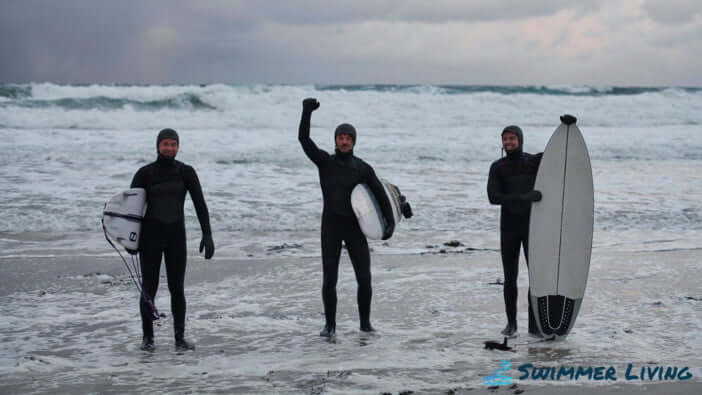 It's finally getting cold outside, so it's time to break out your wetsuit! But what should you wear underneath your wetsuit to keep warm?
What to wear underneath wetsuits is a common concern for anyone who has never worn one.
Fortunately, we have you covered. This article will provide many suggestions for what to wear under a wetsuit in cold water. Here are a few excellent options to consider.
Disclosure: As an Amazon Associate, this site earns from qualifying purchases. Thank you!
1. Compression Shorts
Many people wear compression shorts during exercise to reduce the risk of late muscle onset soreness, but they also serve as an excellent choice for wearing underneath your wetsuit.
Because they are so firm, they do not clump when you put on your wetsuit, allowing you to remain flexible and active.
2. Neoprene Vest
Neoprene vests are a specific kind of waterproof dry suit that guards against hypothermia caused by submersion in cold water.
It's relatively easy to put a (thin) wetsuit on over your neoprene vest, and the additional heat protection that Neoprene shorts offer is one of their many advantages.
3. Rash Guard
A Rash Guard is a t-shirt specifically intended to protect from UV radiation and chafing. It comes in a variety of shapes and sizes. You can choose between short, long, or no sleeves at all.
Rash guards are composed of spandex, nylon, or rayon. Many wear rash guards under their wetsuits to keep warm while submerged in colder water.
4. Thermal Rash Guard
A typical rash guard won't always help when dealing with frigid water temperatures, but a thermal rash guard is a perfect option to help keep you warm.
However, It is up to you to decide how much warmer you need to be because there are many different thermal rash guards available.
Always remember that you'll be compromising your wetsuit's mobility and flexibility with every additional layer of thickness. A thermal rash guard will help keep you warm while allowing you to navigate the water and enjoy the experience comfortably.
5. Neoprene Socks
You might be surprised to know how vital neoprene socks are to your safety and comfort. Whatever water sport or activity you enjoy, neoprene socks provide the grip and insulation you need to keep your feet warm and protected.
6. Underwear
When you don't have any other good alternatives and don't want to go naked under your wetsuit, wearing your underpants under your wetsuit can work. You can avoid wetsuit chafing by wearing a solid pair of underwear.
7. Speedo
Wearing a speedo is comfortable and prevents any irritation the wetsuit may cause. Furthermore, because you will most likely need to change in or out of your wetsuit in a public setting, a speedo helps prevent indecently exposing yourself.
8. Sports bra
Many experts may disagree with the concept of sports bras, but they're known to provide support and minimize chafing. Thickly padded or hefty sports bras, on the other hand, aren't ideal for swimming.
If you choose this option, you should go with the thin and pierced molded cup-based fully sports bra. They're lightweight and often secure to wear when going swimming.
9. Compression Shorts (For Women)
Compression shorts are an excellent choice for reducing clothing if you wear a sports activity bra. They're made of materials like spandex and provide more flexibility and muscular stretch. You can wear these shorts under your wetsuits to avoid rashes.
10. One-piece swimsuit (For women)
A one-piece swimsuit is a fantastic option for covering all vulnerable areas while allowing you to move freely and not feel constricted like a full-on jumpsuit set.
This type of swimwear can be any one-piece bathing suit that feels good against your skin. You should ensure that the swimsuit you wear underneath your wetsuit is comfortable and stretchy.
Furthermore, these swimsuits fit the body properly, so there is no need to worry about them clumping or causing other issues while in the water.
11. Nothing
Don't wear anything if you are wearing your wetsuit! A wetsuit keeps a thin barrier of water between the neoprene and your skin, which your body warms, keeping you warm.
The suit may only sometimes keep you warm if you wear something underneath because it will leave gaps where the water can pass through.
Additionally, wearing boxers or any other type of underwear can get "pulled up" and jumbled around, leaving you with uncomfortable creases. A wet suit should be form-fitting to function correctly.
Advantages of Wearing Something Under Your Wetsuit
Wearing a protective layer under your wetsuit doesn't just protect you from the cold. It also has other advantages, such as:
Comfort
The wetsuits can itch or irritate certain people. Therefore, people wear them to protect their skin and feel more comfortable. The underlayers make a huge difference and boost your confidence.
Skin Protection
Wearing an undergarment with your wetsuit protects you from the stingy rashes it could cause.
Hygiene
When wearing a rented wetsuit, having anything between your skin and the water is highly beneficial for hygiene. There are people with STDs, and various contagious illnesses, who pee in wetsuits.
Decency
Wetsuits without anything underneath them might be a bad option if you're diving in a public area. You certainly don't want to overexpose yourself!
Chafing prevention
Wetsuits are known to cause chafing if worn without anything else. Undergarments are excellent protection against skin lesions caused by wetsuits.
Warmth
Staying underwater for prolonged periods will eventually get chilly, even during hot weather. Garments under the wetsuit work as insulation and keep the heat inside your body.
Safety
Wetsuits often give you a reasonable level of underwater protection, but that is not sufficient. Undergarments that protect you from the sun or stings, bites, and wounds are excellent choices for safety.
Disadvantages of Wearing Something Under Your Wetsuit
Don't assume that everything you wear under your wetsuit is safe, as not all manufacturers design clothing items with specific considerations. These considerations can include the wetsuit's materials and their reactions toward your skin.
Beware of these disadvantages of wearing clothing under your wetsuit.
Overheating
We all understand that wearing extra clothing underneath a wetsuit is supposed to keep you warm. However, they may lead to overheating on hotter days and in warm water. It's proven that overheating can lead to a heart stroke.
Chafing
I understand that it may be difficult for you to understand why wearing it can cause chafing when it is supposed to prevent chafing.
However, the explanation is that chafing might occur when your underpants shift as you go up the waves. That's why it is not advisable to wear cotton or anything loose under your wetsuit.
Movement of Undergarments
People enjoy wearing undergarments beneath their wetsuits. However, many people also find it uncomfortable because the underlays worn beneath your wetsuit never cling to their position.
Because they often pop out due to intense physical activity, you can't even fix them because of the wetsuit. This can make you feel ashamed in public.
FAQs about What To Wear Under a Wetsuit in Cold Water
Hopefully, our listicle came in handy when deciding on something to wear under your wetsuit. If there's something you're still curious about, we've answered some frequently asked questions below that might be of help.
How does wearing something underneath your wetsuit help against cold water?
Wetsuits are designed to keep their wearers warm. Occasionally, cold water still manages to get through. This could be risky if you intend to spend a lot of time in the water. That's where wearing something underneath can help you. Every layer of cloth acts as a defensive barrier against the freezing water. It should help prevent hypothermia while keeping you safe and warm.
Are you supposed to wear anything under a wetsuit?
Your decision to do so is entirely up to you. However, if you wear undergarments, avoid wearing anything baggy, such as cotton briefs or baggy boxers. Put on something that won't bunch.
How do you keep warm in a wetsuit?
Before entering the frigid water, pee or pour warm water inside your wetsuit. Keep moving around to stay warm, and consider wearing booties, gloves, compression shorts, or an insulated vest to keep you warmer.
What water temperature is too cold for a wetsuit?
Wetsuits are acceptable if the water is 76.1 degrees Fahrenheit (24.5 degrees Celsius) or colder. Wetsuits are not a good idea at water temperatures above 83.8 degrees Fahrenheit (28.8 degrees Celsius).
More FAQs
What do you wear under a wetsuit in cold weather?
Under a wetsuit in cold weather, it is recommended to wear thermal wear to stay warm. It is important to select a thermal that suits the activity you will be doing, as they come in different designs and thicknesses. Additionally, it is advisable to check the water temperatures for the day you intend to go out.
Do your clothes get wet under a wetsuit?
The clothes underneath a wetsuit do get wet, so it is important to consider this when choosing what to wear underneath. While some thicker suits may be referred to as "Semi-Dry" suits, it is still inevitable that anything worn under the wetsuit will become wet.
Should you wear thermals under a wetsuit?
You should wear thermals under a wetsuit. A thermal rash guard is a great choice as it not only prevents chafing but also provides additional insulation to keep your core warmer. Wearing a decent thermal under a kayak jacket can significantly enhance your comfort during Autumn.
Can you get hypothermia with a wetsuit?
You can develop mild and moderate hypothermia while wearing a wetsuit if you surf in 3/2 mm wetsuits at 50 °F (10 °C) because 90 percent of body heat loss occurs through the skin and 10 percent through the lungs.
What is the best thing to wear under a wetsuit?
The best thing to wear under a wetsuit can vary depending on personal preference and desired level of comfort or warmth. Options include wearing nothing at all, a thin garment like a rash vest, compression shorts, or a bikini for added comfort. For those seeking extra warmth, a thermal hooded rash vest can be a suitable choice.
Does your body stay dry under a wetsuit?
Your body does not stay dry under a wetsuit, but it can stay warm. Wetsuits are constructed with waterproof, closed-cell, foam-rubber (neoprene) material that provides insulation even when wet. The warmth provided by a wetsuit depends on the thickness of the neoprene and how snugly it fits.
Do wetsuit socks go over or under wetsuit?
Wetsuit socks are typically worn inside wetsuit boots. Although water may still enter the boots, wearing socks provides added comfort. Neoprene material can cause friction during prolonged water activities or energetic sports.
Should a wetsuit be tight?
A wetsuit should be snug, like a second skin, but it should not be so tight that it restricts your range of motion.
What are the shorts for under wetsuits?
The purpose of wearing shorts under wetsuits is to provide additional warmth during colder months and prevent chaffing. Neoprene shorts can be worn under a wetsuit to extend its usability in the summer. Even if you have a suitable winter wetsuit, wearing shorts underneath can offer added protection and comfort. It is more effective than wearing a swimming suit beneath the wetsuit.
Do you wear wetsuit shoes over or under wetsuit?
The correct way to wear wetsuit shoes is to put them on underneath the wetsuit. This allows the water to flush out of the wetsuit and not into the booties. To do this, roll up the ankles of your wetsuit, put on your booties, and then roll the wetsuit over the tops of the booties.
Is it warmer to wear clothes under wetsuit?
Wearing clothes under a wetsuit does not significantly affect how warm you will be, as the layer of water between your body and the wetsuit acts as insulation. Regardless, the clothes will still get wet due to the functioning of the wetsuit.
What can I wear under my wetsuit to make it warmer?
To make your wetsuit warmer, you can wear a 3mm shorty either under or over your full wetsuit if it doesn't already have a hood attached. Along with a hooded vest, incorporating various thermal products designed for layering under your wetsuit can significantly enhance your warmth.
Does a rash vest under a wetsuit keep you warmer?
A rash vest worn under a wetsuit does not provide additional warmth. If you choose to wear a rash vest under your wetsuit, ensure it fits snugly. When renting a wetsuit, it is recommended to wear a swimming costume underneath for hygiene purposes.
Can you wear normal thermals under wetsuit?
It is possible to wear regular thermals underneath a wetsuit without any negative consequences. In fact, your own thermals may provide a better fit compared to the fleece layer provided with the wetsuit, which is typically suitable for winter months but can be used throughout the year. While wetsuits are generally effective, they may not offer a perfect fit for everyone. If you have concerns about feeling cold, feel free to reach out as there are numerous tips available to help you stay warmer.
Do wetsuits actually keep you warm?
Wetsuits do indeed keep you warm by insulating your body and helping you retain heat. This is crucial in preventing hypothermia, a condition characterized by dangerously low body temperature. Neoprene, a type of rubber, is the material used to make wetsuits. These suits create a barrier that traps a thin layer of water between the neoprene and your skin, further enhancing their insulating properties.
Does a wetsuit keep you warm in 60 degree water?
A wetsuit can provide warmth in 60 degree water, especially when the water temperature falls below 65 degrees, as it helps prevent the swimmer from experiencing discomfort or adverse reactions to the cold.
Does a thicker wetsuit keep you warmer?
A thicker wetsuit does provide more warmth as it has increased insulation to trap heat. It is crucial to consider the water temperature, taking into account the varying seasons and swells in the region where the wetsuit will be primarily used.
Does layering wetsuits work?
Layering wetsuits does work as an effective and economical method to enhance comfort in various water temperatures. By wearing multiple separate wetsuit layers, such as a Hooded Vest underneath a One Piece Fullsuit, you can adapt your suit to colder conditions.
Does a wetsuit stop cold water shock?
A wetsuit does not stop cold water shock, but it does help reduce heat loss from your body, increasing your comfort level and allowing you to swim in cold water for a longer period of time.