10+ Fascinating Pool Accident Statistics You Need To Know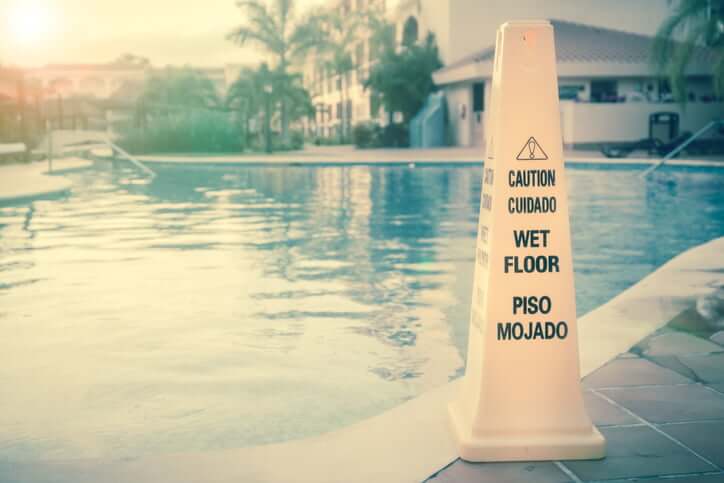 Picture yourself lounging by the pool, enjoying the sun and cooling off in the blue pool water. Sounds great, right? While pools provide endless fun and relaxation, knowing their potential dangers is essential.
Understanding pool accident statistics can help you take the necessary precautions to protect yourself and your loved ones. Let's dive into some eye-opening statistics that shed light on the importance of pool safety.
Disclosure: As an Amazon Associate, this site earns from qualifying purchases. Thank you!
Top 10 Pool Accident Statistics
Over 70% of fatal pool accidents involve children under the age of five years.
Drowning is the leading cause of unintentional injury-related deaths among children aged 1-4 years.
Residential pools account for approximately 85% of pool-related fatalities.
In 80% of child drowning cases, a parent or caregiver was responsible for supervision.
Each year, an average of 3,500 non-fatal pool-related injuries occur among children under the age of 15 years.
Alcohol consumption contributes to about 50% of adolescent and adult pool-related deaths.
Inflatable pool toys account for a significant number of non-fatal drowning incidents.
Unsecured pool areas contribute to 70% of child drownings at residential locations.
75% of drowning victims are male.
African American children aged 5 to 19 are six times more likely to drown in pools than their white counterparts.
Overall Pool Accident Stats
Let's take a broader look at the overall picture of pool accidents. The following stats feature additional insights into the prevalence and factors associated with pool accidents:
Over 70% Of Fatal Pool Accidents Involve Children Under the Age of Five (Consumer Product Safety Commission)
This emphasizes the critical need for constant supervision and implementing appropriate safety measures to protect this age group from the dangers of drowning.
Drowning Is the Leading Cause of Unintentional Injury-Related Deaths Among Children Aged 1-4 Years (Centers for Disease, Control, and Prevention)
The risk of drowning for kids 1-4 years is high due to their limited swimming abilities and the potential for quick submersion, even in shallow water. It underscores the importance of early water safety education, including swimming lessons and the necessity of constant supervision.
Residential Pools Account For Approximately 85% Of Pool-Related Fatalities (National Safety Council)
Residential pools play a significant role in pool-related fatalities, accounting for approximately 85% of these tragic incidents. This stat emphasizes the importance of implementing safety measures in home pool environments, such as installing secure barriers and providing swimming lessons.
In 80% Of Child Drowning Cases, a Parent or Caregiver Was Responsible for Supervision (Safe Kids Worldwide)
With 80% of children drowning cases happening in the presence of a caregiver, parents/guardians need to ensure constant vigilance and undivided attention when children are near the pool and any other large water sources.
115,000 Injuries Happen in or Near a Pool Each Year (HG)
Some are due to slippery surfaces and others are due to unsafe pool behavior.
Each Year, an Average of 3,500 Non-Fatal-Pool-Related Injuries Occur Among Children Under 15 Years (National Drowning Prevention Alliance)
Non-fatal pool injuries are also a significant concern, with 3500 such injuries occurring annually among children under 15 years. These injuries can range from slips and falls to more severe incidents that require emergency medical treatment.
Alcohol Consumption Is a Contributing Factor in About 50% Of Adolescent and Adult Pool-Related Deaths (National Institute on Alcohol Abuse and Alcoholism)
Alcohol consumption significantly contributes to pool-related deaths, contributing to approximately 50% of adolescent and adult fatalities. Impaired judgment, decreased coordination, and slower reaction times increase the risk of accidents and drowning incidents.
Water Only Needs To Be 2 Inches for a Child To Drown In It (ROSPA)
That's why it's so important to keep an eye on children in the pool.
Inflatable Pool Toys Account for a Significant Number of Non-Fatal Drowning Incidents (US Consumer Product Safety Commission)
Inflatable pool toys may seem harmless but can pose risks if used improperly. They account for a significant number of non-fatal drowning incidents.
Unsecured Pool Areas Contribute to 70% Of Child Drownings at Residential Locations (USA Swimming Foundation)
Lapses in pool safety measures, such as inadequate fencing, lack of self-closing gates, or absence of pool covers, create easy pool access for unsupervised children, contributing to up to 70% of child drownings.
Males are more susceptible to drowning due to their risky behaviors and increased exposure to the water.
African American Children Aged 5 to 19 Are Six Times More Likely To Drown in Pools Than Their White Counterparts (The CDC)
Socioeconomic factors, limited access to swimming lessons, and cultural perceptions regarding swimming contribute to this disparity.
Drowning Rates are 2 times higher for Alaska Native People under 29 than White People (The CDC)
It's not clear why this is the case, but it may be due to less access to swimming lessons.
In 60% Of Drowning Cases Among Older Children and Adults, the Incidents Occur in Natural Water Bodies (World Health Organization)
60% of older children and adults drowning incidents occur in natural bodies of water like lakes, rivers, and oceans due to inadequate swimming skills.
CPR Can Save Many Lives in the Water, but Only 18% Of People Know How To Do It (Harvard)
Someone involved in a pool accident may need it to survive.
43% Of Pool Accidents Are Due To Diving Incidents (The Red Cross)
Diving while fun creates a range of hazards, such as accidents occurring in shallow water, improper diving techniques, insufficient clearance, and diving in restricted areas.
Drowning Is the Second Leading Cause of Unintentional Injury-Related Deaths Among Children Aged 1-14 Years (The WHO)
Among children aged 1-14 years, drowning is the second-leading cause of unintentional injury-related deaths, surpassed only by motor vehicle accidents emphasizing the need for water safety education to reduce child fatalities.
While this seems like a small number, most of these deaths were preventable.
In the United States, Approximately 4,900 Children Require Emergency Medical Treatment Due To Pool-Related Injuries (American Academy of Pediatrics)
Unfortunately, while non-fatal, these injuries can have severe long-term consequences, such as disabilities and brain damage.
African American and Hispanic Children Are More Likely To Have Lower Swimming Proficiency Than Their White Counterparts (Red Cross)
Promoting inclusivity in swimming lessons and water safety programs can help address these disparities and improve overall water safety.
Wrap Up
Understanding pool accident statistics is crucial for promoting pool safety. From the risks associated with inadequate maintenance to the essence of supervision and awareness, these stats highlight the need for preventive measures.